Family: Agaricaceae
Synonym: Agaricus procerus
Common name: Honey combed mushroom, morel.
Local name: Guichchhee ( गुच्छी)
Guchchhee grows wild in hill forests between elevations of 1500 to 3000 metres. It grows in the wild only and all efforts made to domesticate it have so far remained futile. This mushroom starts appearing soon after the snow melts in the forests, and continue till the end of April.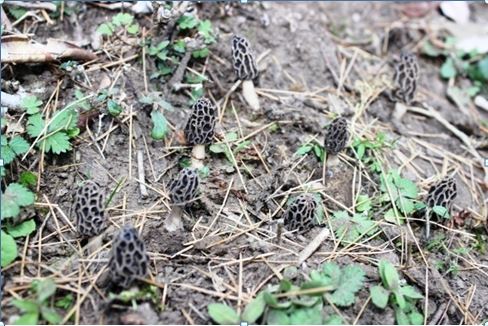 In some places at lower altitudes, a second crop also appears in August. The yield of this crop, however, is much less and the quality is also not like the first crop.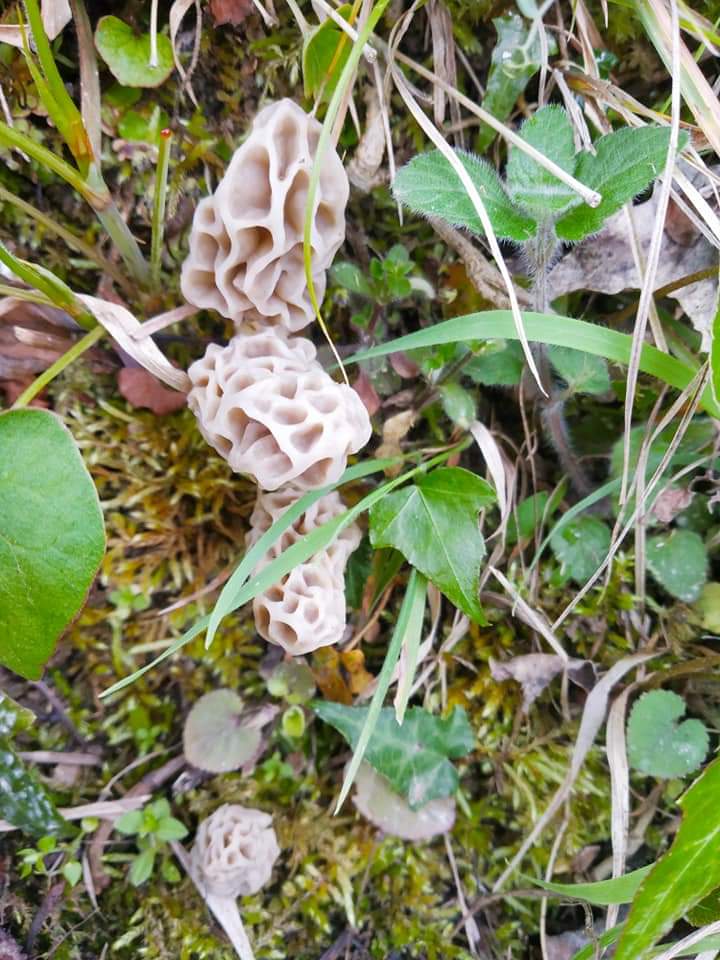 Guchchhee is the highest priced mushroom in India and must be one of the most expensive mushrooms in the world. Dried guchchhees sell from 12,000 to 15,000 rupees a kilo. So naturally it is a delicacy eaten only by very rich people in the cities or villagers, who collect this mushroom from forests, are also able to eat it. Why guchchhee sells at such a high price, has always been a mystery as no one has been able to tell me the reason for it.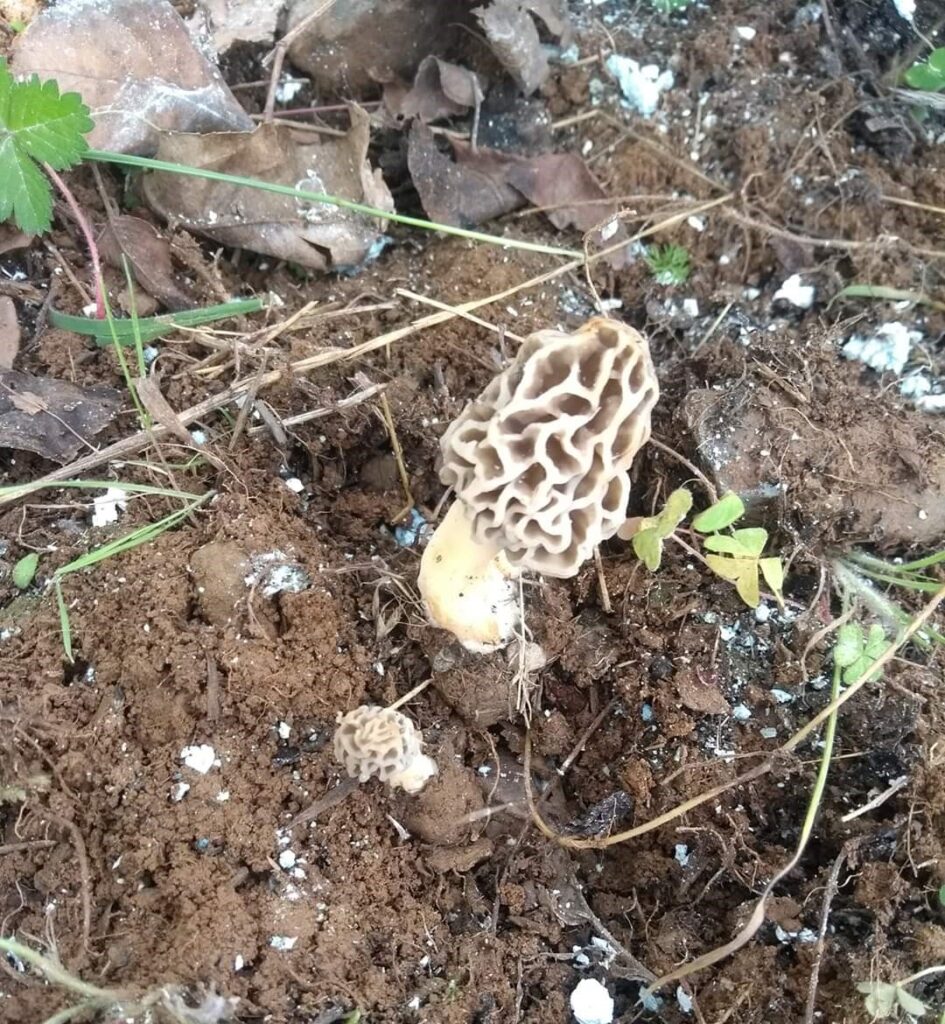 It has been noticed that guchchhees of this off-season crop usually appear in orchards having large trees.
It has also been noticed that the emergence of guchchhees is relatively more in those forests which were affected by forest fires during the previous season.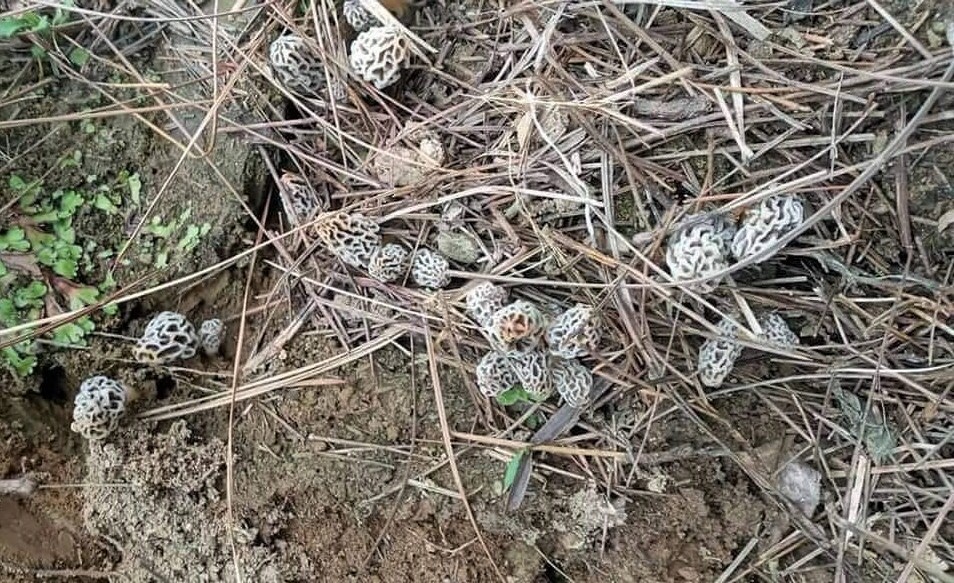 Mr. Jai Chand, a botany student hailing from Chuhar Valley and gathering guchchheess since childhood, has noted that this mushroom prefers to grow under or in proximity of the wild growing creeperMURANGHA (Ampelocissus rugosa).  Mr. Jai Chand further says that guchchhee collectors of his village first look for this creeper and then search the ground for guchchhees, which are usually hidden or partially visible in grass or leaves.
All guchchhees have white stalk while the top has a variable colour ranging from yellowish brown to olive. These attain full size in 5-6 days weighing about two grams each. Fresh guchchhees taste better than the commercially available dry guchchhees.
Guchchhee plant:
Ascocarps (Upper part) grayish to yellowish sponge with large pits and ridges up to 12 cm in height, apothecia up to 15 cm in diameter, pileus surface up to 8 cm, grayish to yellowish, spongy, pitted, ridges, grooves, pits rounded irregularly arranged often fused with whitish stipe; flesh up to 5 mm in thickness, spongy, spore deposit almost whitish.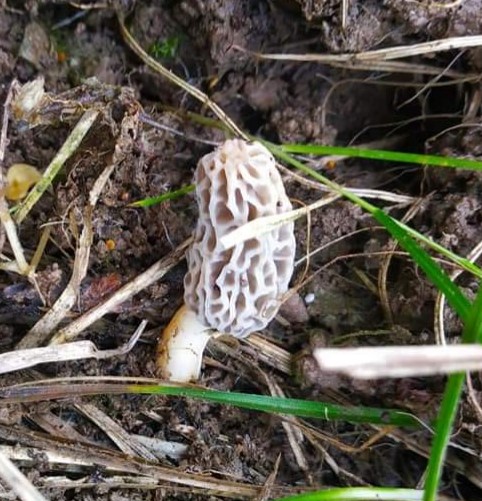 Lower part or stipe, constituting 20-30 per cent of total weight, up to 8 cm long, 2 cm broad, white to yellow, flesh soft, spongy, hollow, bulbous base.
Taste and odour mild.
Edible uses:
Guchchhee is used as vegetable. In villages where people collect this mushroom from forests, fresh guchchhees are used. At other places, dry guchchhees are used.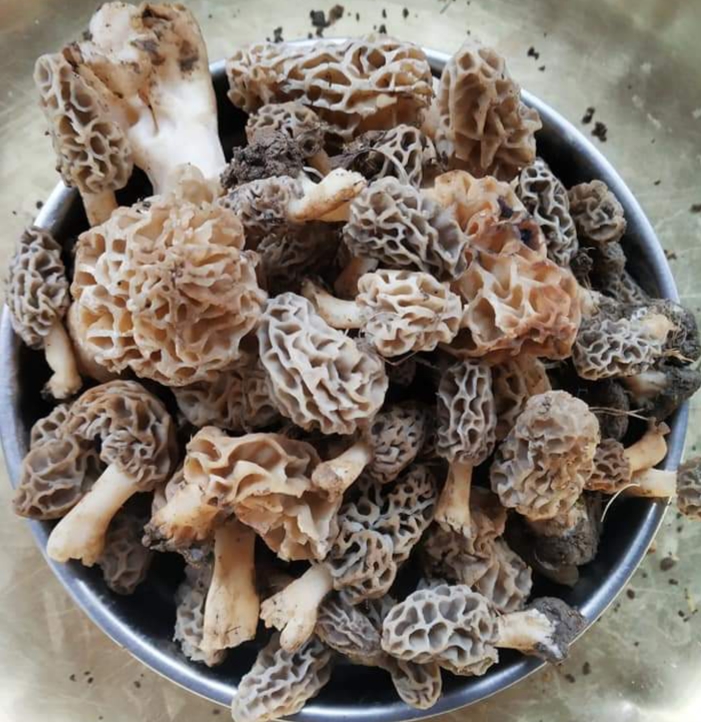 Dry guchchhees have to be soaked in water overnight before cooking. Only then these are made into a vegetable. These are mostly cooked in combination with potatoes and aloo guchchhee is the most popular guchchhee preparation. It is eaten along with rice.
The recipe for preparing guchchhee vegetable from freshly picked guchchhes is given below.
Ingredients required:
Freshly harvested guchchhee, 1 kg; mustard oil, 3-4 table spoons; coriander powder, 1 table spoon; fenugreek powder, 1 tea­­­­­­­­ spoon; cumin seed, 1 table spoon turmeric powder, 1 table spoon; red chillies, 2-4; medium sized chopped onion, 1; chopped garlic cloves, 4-5; tomato puree half cup, green coriander leaves(chopped), 1/2 cup amount; branded garam masala,1/2 table spoon amount; salt, according to taste.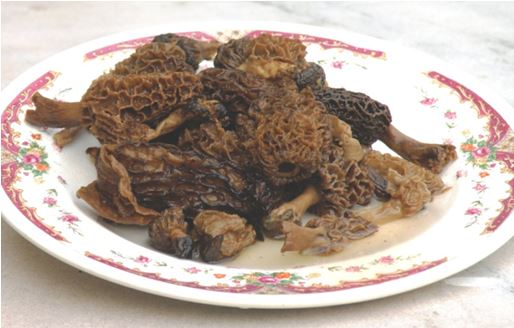 Dried guchchhees soaked in water before cooking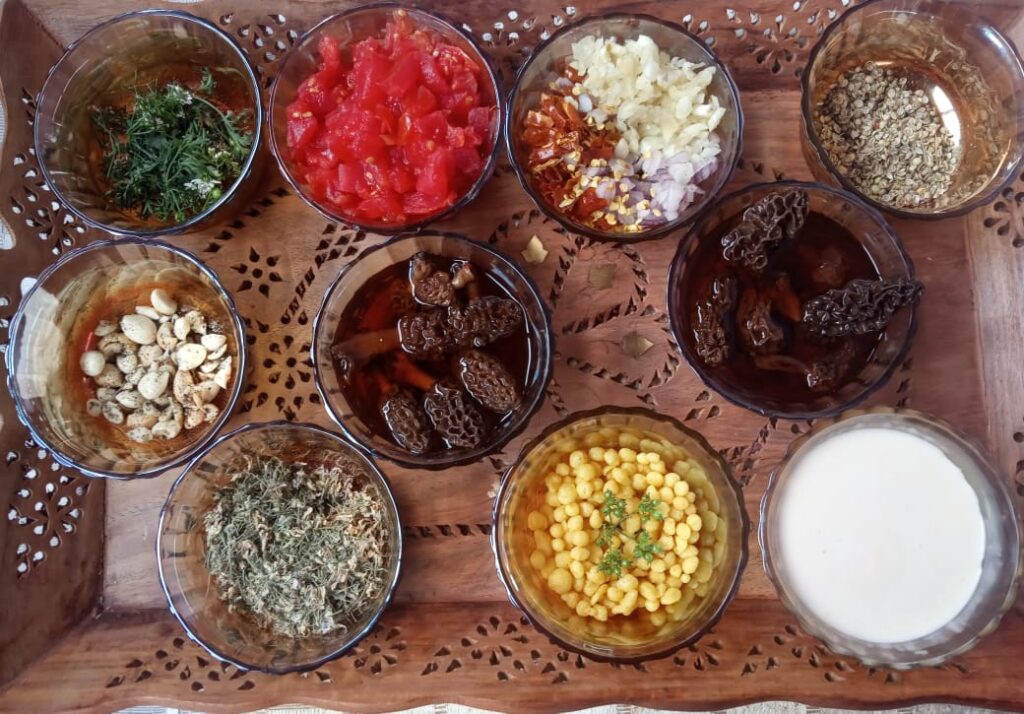 Method:
Guchchhee pieces are sauted in hot oil along with whole spices like coriander, cumin seeds, chillies, turmeric, onion, garlic and tomato puree etc in sequence. Then cook for 20 to 30 minutes till become soft. Garnish recipe with chopped green coriander leaves and garam masala.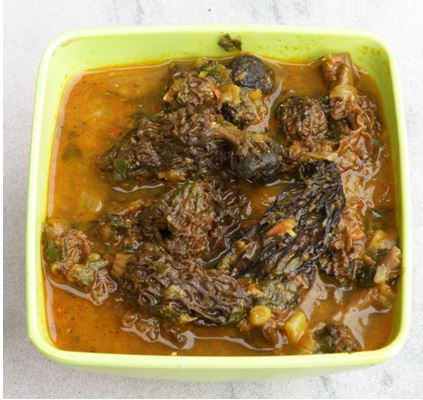 Vegetable from guchchhee
For making vegetable curry add some curd and basen boondi to above recipe and cook for another 5 to 10 minutes and serve with rice.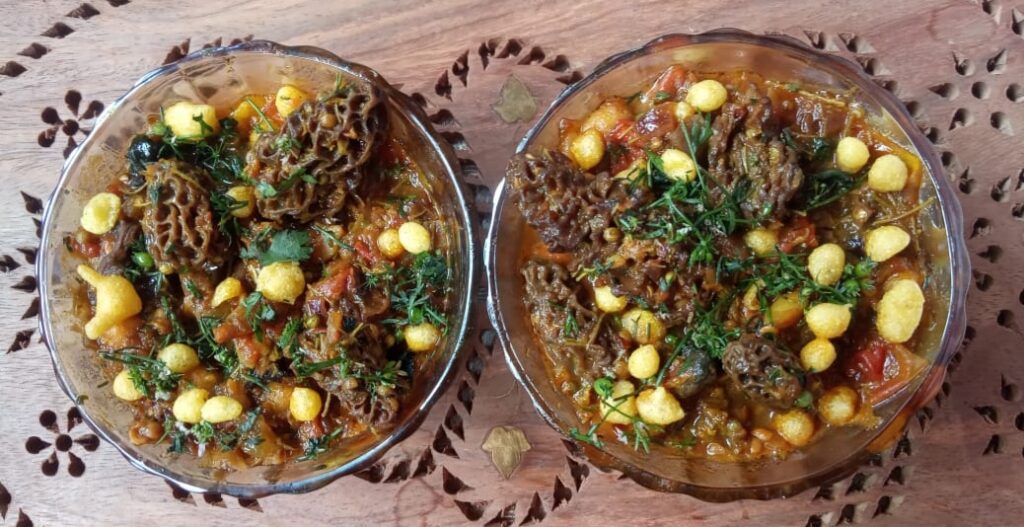 Guchchhee as source of income:
The collectors set out to forests from their homes in the morning with a target to return with atleast half kilo guchchhees. But Mr. Jagdish Thakur, a worker at IIT Botanical Garden, a regular guchchhee collector, says that it all depends upon luck. One may even return just empty or may get even two kilos at the end of the day.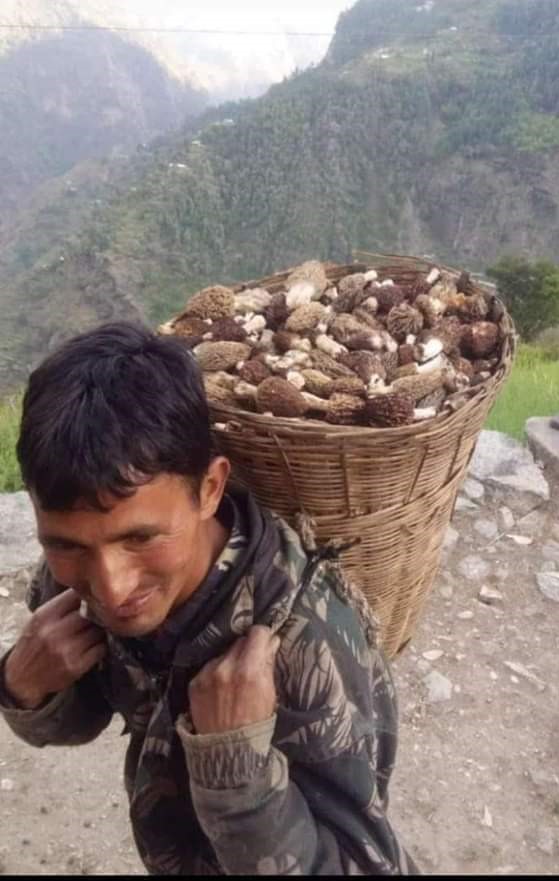 The fresh guchchhees are then cleaned at home and the soil particles adhering to roots are removed. These are then dried in the sun. The common practice for drying is to make a garland of guchchhees and hang it. The final recovery is 10 -12 per cent. The moisture content of fresh guchchhees is 93.85 per cent. According to Mr. Jagdish Thakur, some unscrupulous collectors dip fresh guchchhees in salt solution for some time. This results in small increase in weight.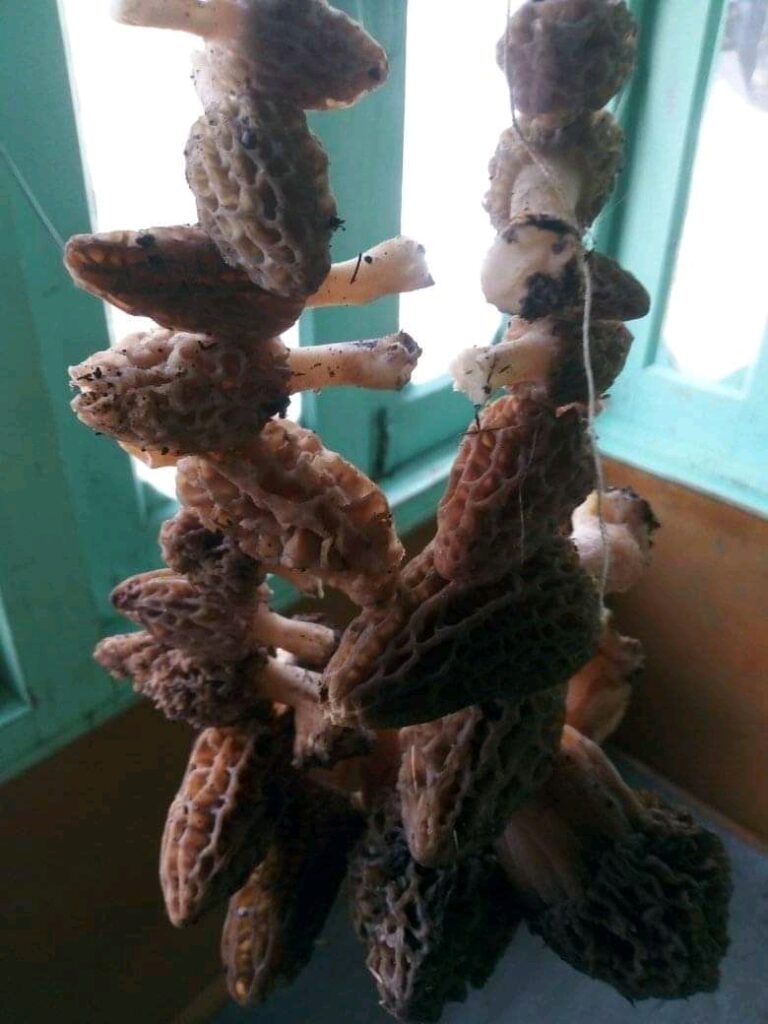 Economics:
Villagers get around 6000 rupees a kilo for their collection from small local traders who take it to bigger traders at Bhuntar or Kullu and get a profit of 500 rupees. The produce then goes to the plains. In guchchhee area villages, a family is able to earn eight to fifteen thousand rupees annually from guchchhee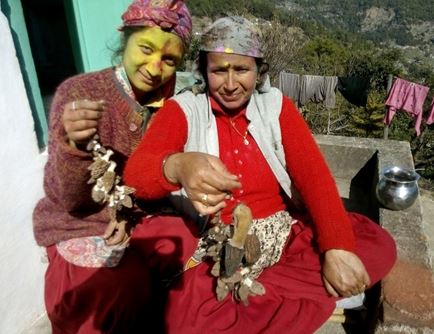 collection. The government earns100 rupees per kilo by levying an export tax payable to the village panchayat.
Myths about guchchhees There are several myths about emergence of guchchhees. Some attribute it to the cloud thunders during winter rains. Some associate it with particular soil and winter weather. But there does not seem to be any conclusive evidence. There does not seem to be any set principle. To everyone's surprise, guchchhee which ordinarily grows only in forests, were seen to have emerged inside some residential buildings in the villages and even at Mandi town. This indicates that this prized mushroom does not mind growing outside its normal habitat. So the scientists should not lose hope.