Family: Crucifereae
Common name: Water cress
Local name: Chhooch (छूछ)
Chhoochh grows wild among ditches, pools and margins of shallow streams. It can be seen upto an elevation of 2100 metres in Himalayas. Chhoochh is prepared as a vegetable. As chhoochh grows only along water channels or sides of ponds, so it is available only at those places where there are water channels or pools. It is collected only from the wild and is not offered for sale. So naturally, it is not available everywhere and therefore is not known to many people.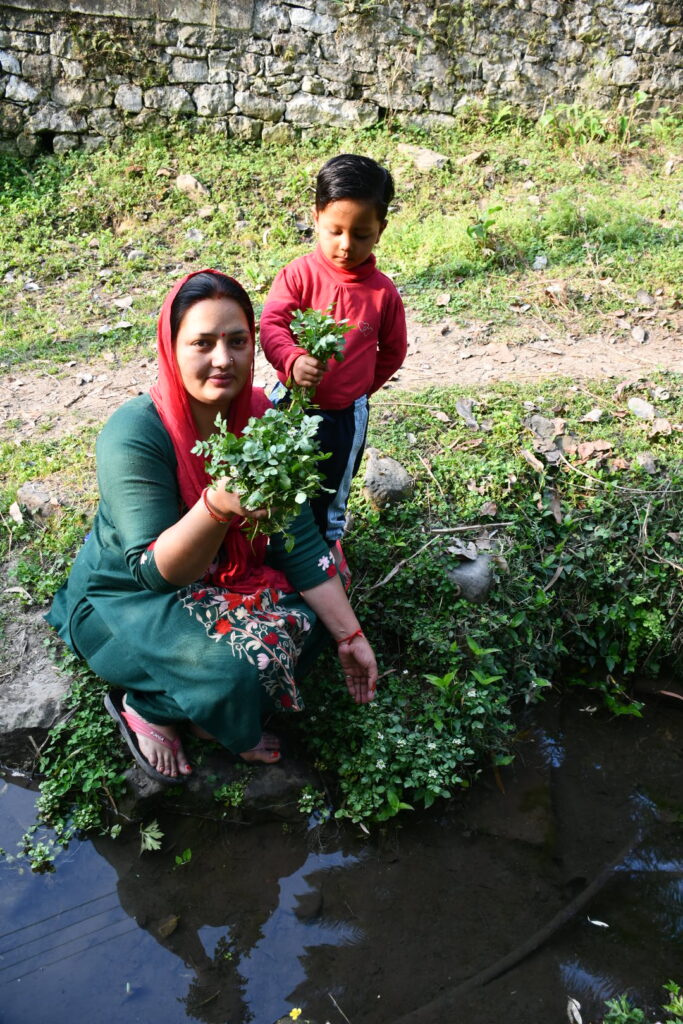 Chhooch is so well naturalized here that local people may hardly believe that this plant is not from India and has come to India from Europe. That is why it has an English name too. People cultivate it in Europe and America and use it as salad and garnish for various dishes. Chopped leaves are incorporated there in fruit and vegetable juice cocktails, soups and even in biscuits.
A serious decline in calcium level have been observed in women during menopause period. Women of rural backgrounds in hills are more prone to calcium deficiency symptoms, so advised to take calcium supplements in diet to get rid of calcium deficiency symptoms. These calcium supplements are not as safe as some natural source of calcium. Chhooch being rich in calcium can be best option to such women, which is free from chemical fertilizers. a natural source and also easily available for them
Chhooch plant:
A perennial much branched aquatic herb with creeping or floating stem, glabrous.
Leaves pinnate; leaflets 7-11 mm, sessile, ovate-oblong or sinuately lobed, obtuse;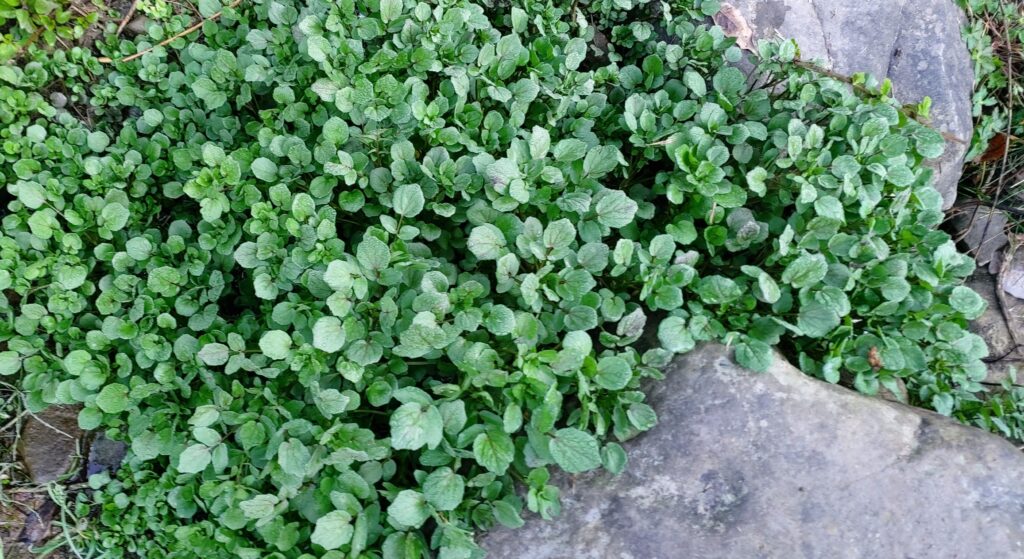 Flowers white, in short racemes, petals longer than sepals.
Fruit a siliqua, linear, 12-25 mm long.
Seeds minute, ovoid, muriculate.
Edible uses:
Here in Himachal Pradesh, chhooch stems are picked alongwith leaves and prepared as saag like dish and eaten along with chapatis. The recipe for this is given below. Chhooch vegetable is also prepared along with potatoes.

Chhooch plant can provide edible leaves all year round .
Saag;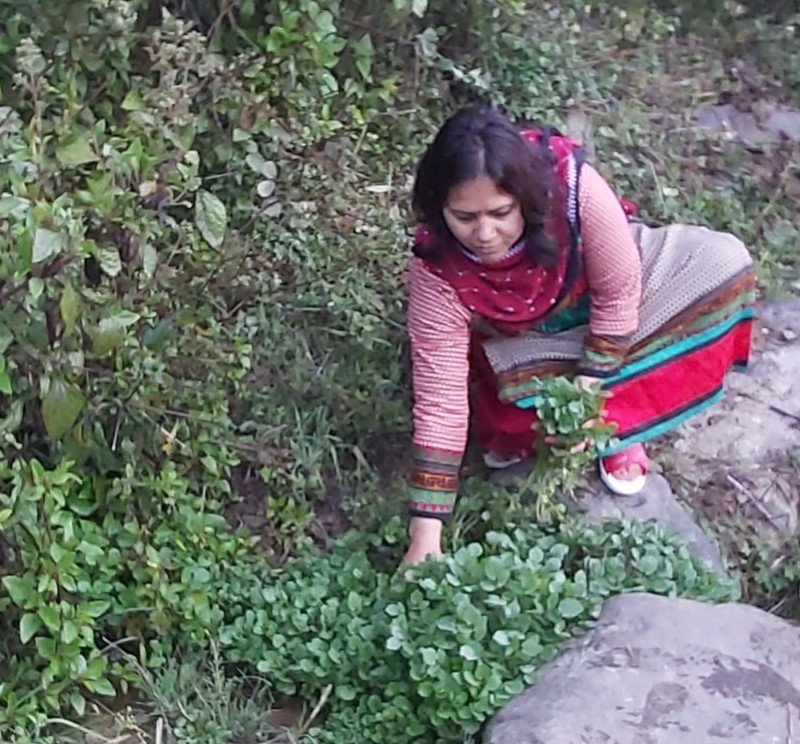 Ingredients:
Chopped leaves and tender tips, 1 kg; mustard oil, 3-4 table spoons; coriander powder, 1 table spoon; fenugreek powder, ½ table spoon; cumin seed, 1 tea spoon; turmeric powder, 1 table spoon; red chillies, 2-3; chopped medium sized onions, 2-4; garlic, 4-5 cloves; ginger paste ½ table spoon; medium sized boiled or raw potatos, 2-3; salt, according to taste.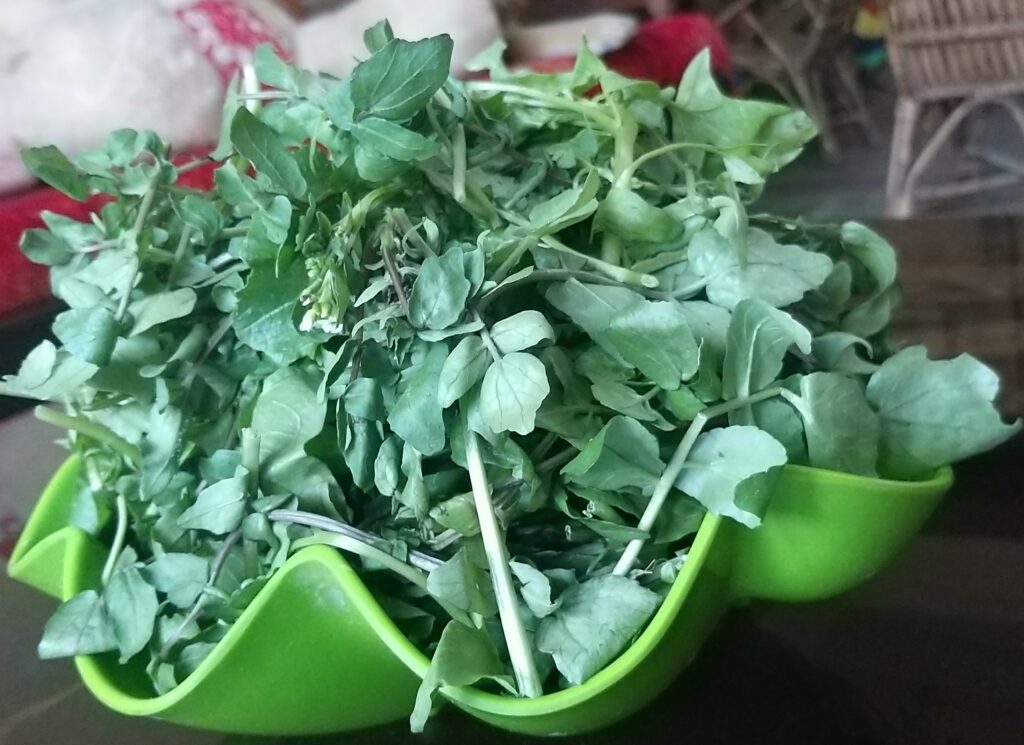 Method:
Boil chopped leaves and tender tips till they are soft. Then mesh manually or in a mixer and auté with hot mustard oil and the spices listed before in sequence. This sauted saag is then ready and can be served. Alternatively, it can also be mixed with 2 or 3 chopped onions or boiled potatoes and cooked for another 5 to 10 minutes before serving.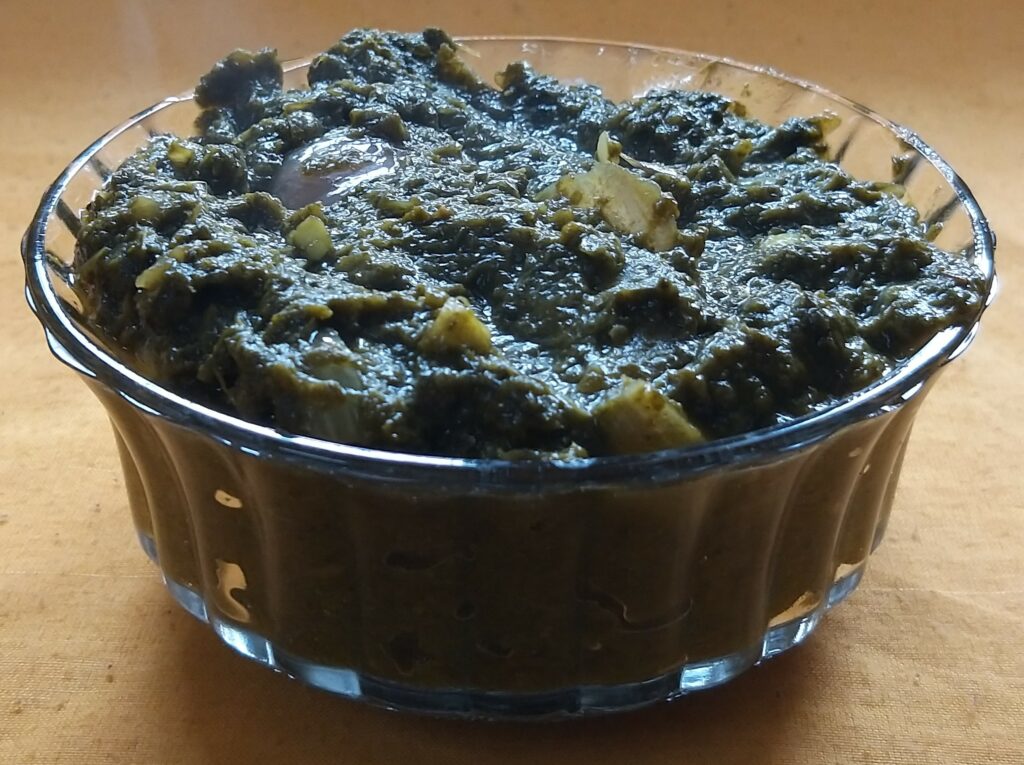 Method:
Put oil in a pan.then saute chopped potatoes with spices listed above in sequence along with tender green chopped leaves. Cook for 10 to 15 minutes till sauted potatoes and leaves become soft. Now serve with chappatis.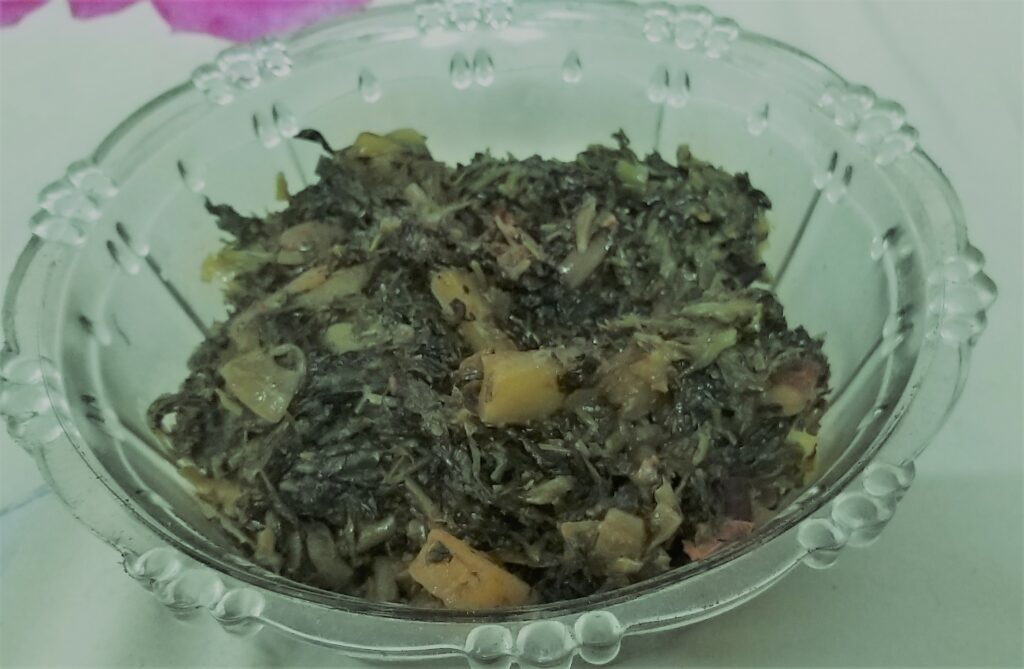 Food value:
Chhoochh is reported to possess antiscorbutic and stimulant properties. It is eaten to improve appetite. It is a good source of vitamins and minerals. Chemical analysis of chhooch shoots gave the following values: moisture, 89.2, protein, 2.9; fat, 0.2; carbohydrates, 5.5; and mineral matter, 2.2 %; calcium, 290; phosphorus, 140 and iron, 4.6 mg/100 g1 .
Seek advice from a professional before using this plant medicinally.
Medicinal uses
Chhooch is also reported to be useful in strangury and goitre. Its juice is used as a cure for polypus of the nose. The plant is widely known for its antiscorbutic and stimulant properties. It is used in brazil in troubles of the chest. The essential oil consists chiefly of phenylethyl mustard oil, phenylethyl isothiocyanate, believed to be derived from a glucoside 2 .
Chhooch a easy source of earning:
Chhooch is a good easy source of earning for local people. They collect plant from wild and sell a bunch of 250 g at the price of Rs 20 to 30 .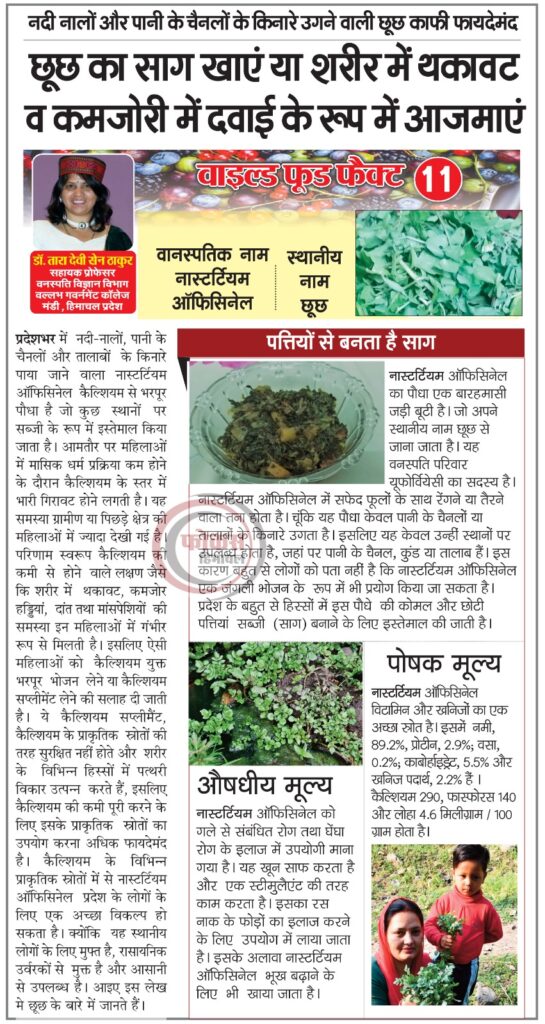 References:
1 Anonymous, (1966), Wealth of India:Raw Materials, Vol VII, CSIR, New Delhi.
2 Kirtikar K.R. and B.D. Basu, (1935), Indian Medicinal Plants, Vols. I, II III and IV, Bishan Singh Mahendra Pal Singh, Dehradun.