Family: Phytolaccaceae
Common name: Himayan pokeberry, Indian pokeberry
Local name: Jharka (झरका)
In some of the books on Indian plants, Phytolica acinosa, is reported to grow on places having a very wide climatic range, even at an elevation of 500 m. There seems to be some confusion in identification of this species. The Phytolica acinosa, we are describing here is a plant of temperate region and is rarely seen growing below 1800 m.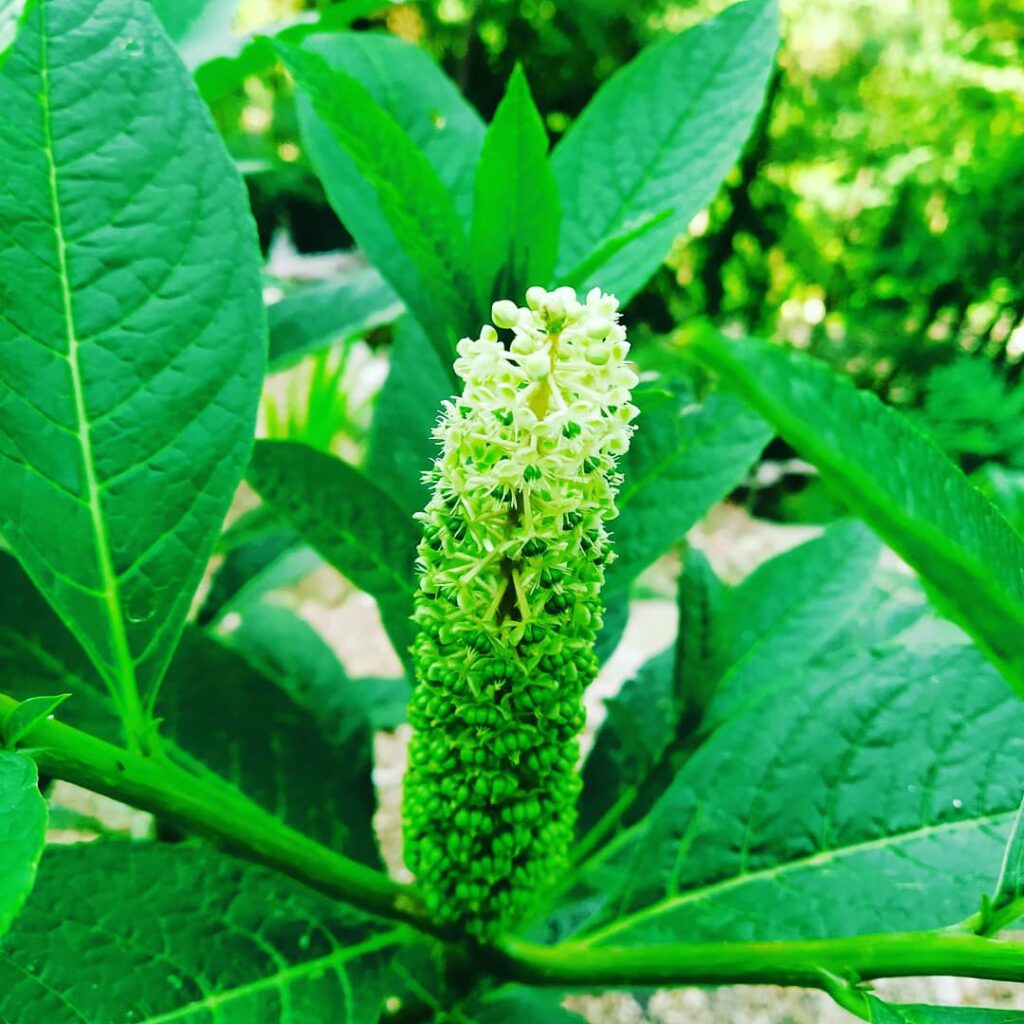 The raw leaves of jharka taste bitter and therefore cannot be eaten. Though cattle eat it, but it is not fed to milch cattle. Villagers who keep milch cattle say that if cows or bullalos eat jahrka plants, their milk turns bitter and does not remain fit for use. Not only milk, but even the paneer (Indian cottage cheese) made from this milk, also develops a bitter taste. But after cooking, the bitter component disappears and it tastes normal like other pot herbs.
Jharka plant
A herbaceous plant, growing up to 1-1.5 m.
Leaves large, lanceolate, 15-25 cm, long-pointed, and narrowed at the base to a short stalk.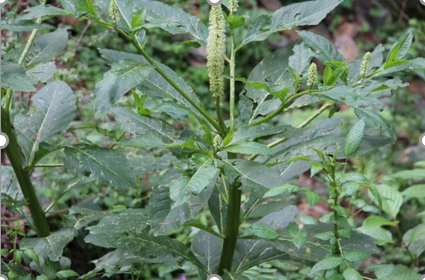 Flowers green white, borne in erect cylindrical clusters, opposite the leaves; spikes are 5-15 cm long; flowers are 7 mm across, with 5 obovate, spreading petals; stamens, 8-10; carpels, fleshy , dark purple.
Fruits are crowded and borne on erect cylindrical clusters, purple at maturity.
Seeds kidney shaped, blue black.
Edible uses:
Leaves and tender twigs of jharka are prepared as saag. This can be done by cooking them in the following way:
Ingredients:

Chopped leaves and tender twigs, 1 kg; mustard oil, 3-4 table spoons; coriander powder 1 table spoon; fenugreek powder, ½ table spoon; cumin seed 1 tea spoon; turmeric powder, 1 table spoon; red chillies, 2-3; medium sized chopped onions 3-4; garlic, 4-5 cloves; ginger paste ½ table spoon and salt, according to taste.
Method:
Chopped leaves and tender twigs are boiled till they become soft. These are then meshed manually or in a mixer and sautéd with hot mustard oil and the spices listed before in sequence. This sauted saag is then ready and can be served as such or can be mixed with 2 or 3 chopped onions before serving.
Seek advice from a professional before using this plant medicinally.
Medicinal uses:
Local people use jharka plant to get relief from body pain. Pharmacologically the plant is accredited with antiasthmatic, antifungal, expectorant, antibacterial and laxative properties.
Other uses:
    In China, the roots of this plant are also reported to be eaten.  However, in North India, only the leaves and tender twigs are eaten and that too after boiling.