Family: Athyrioideae
Synonym: Anisogonium esculentum, Asplenium ambiguum, Asplenium esculentumAthyrium esculentum, Callipteris ambigua, Callipteris esculenta, Digrammaria esculenta, Diplazium malabaricum, Hemionitis esculenta,Microstegia esculenta, Common name: Vegetable fern,
Local name: Lingad (लिंगड़)
.

Lingad, which is a fern, is one of the most popular wild growing food plants of Himachal Pradesh.  It is eaten in large quantities by Himachalis.  Severalpreparations are made from it.  Every year tons of lingad worth lakhs of rupees is sold in the vegetable markets of Himachal towns. 
This entire supply of this plant comes from forests as lingad has still not been brought under cultivation. Besides Himachal, lingad also grows in the forests of Kashmir and Uttaranchal and there too people like it.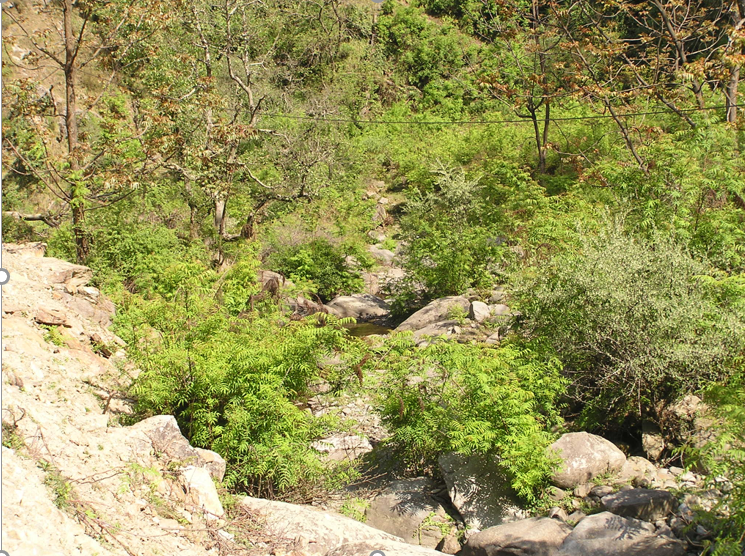 Lingad plants grow at humid and shady locations, mostly along streams and springs in hill forests from 1300 to 1900 metres above the sea level. The young emerging hairy, blackish green fronds of this plant make the edible part. These are around 1 cm thick at base, 6 – 9 inches long, erect but coiled at the apex. These fronds are in fact leaf stalks with developing leaves at the top. They are fit for eating during the earlier stages when these are tender. After this stage, the leaves open up, increase in size and the succulent stem turns woody. It is does not remain fit for cooking at that stage. So lingad has therefore to be picked at a particular stage of development. Therefore it has a limited season.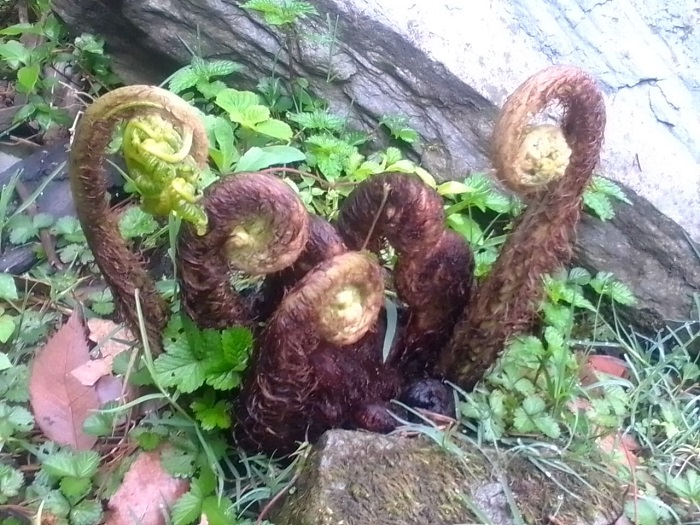 Lingad is not just another vegetable.  Special curries like DUM (दम)and MADHRA (मधरा) with exclusive recipes are made inHimachal from it.  The preparations are even served as special dishes to VIPs on special occasions like marriages.  Lingad is especially popular among the members of Sood community of HP and they have their own recipes for lingad curries.
Lingad plant:
Lingad is a tufted fast-growing  perennial fern. It usually grows on exposed grassy slopes. This plant has a stout creeping rhizome growing in the soil which is not visible from the outside.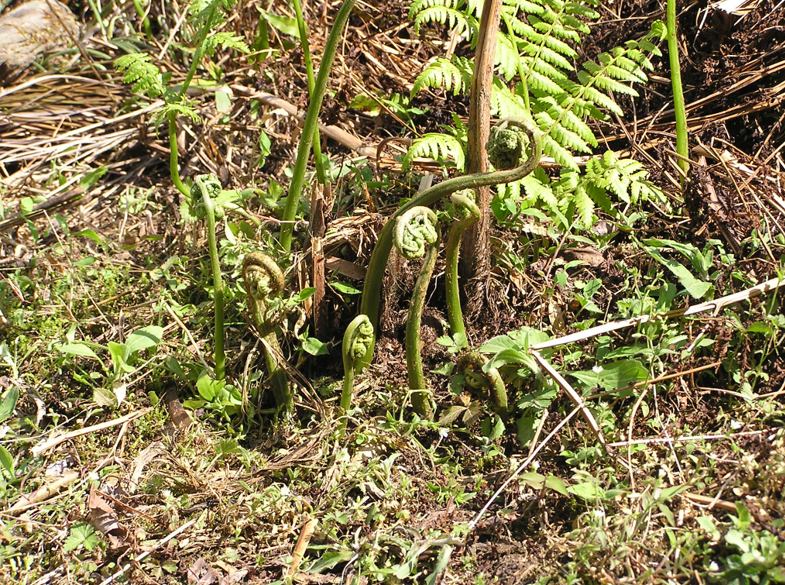 Lingad fronds ready for harvesting
        This rhizome produces numerous fronds which are mostly tripinnate. covered with short rufous scales of about 1 cm long. Uppermost pinnae are simple. 
When fully developed, the pinnae can be 0.6 to 1.8 m long and 30-60 cm wide.
Edible uses:
As soon as the weather starts warming up after winter, new fronds start emerging as a coil. This coil keeps growing upwards. It is harvested when it is 15 to 20 cm long. After that stage, the terminal coil starts straightening and leaves begin to emerge. The frond also starts loosing its tenderness and begins to become woody. When this stage reaches, it becomes unfit for cooking. So fronds have to be harvested when these are succulent which is before this stage comes.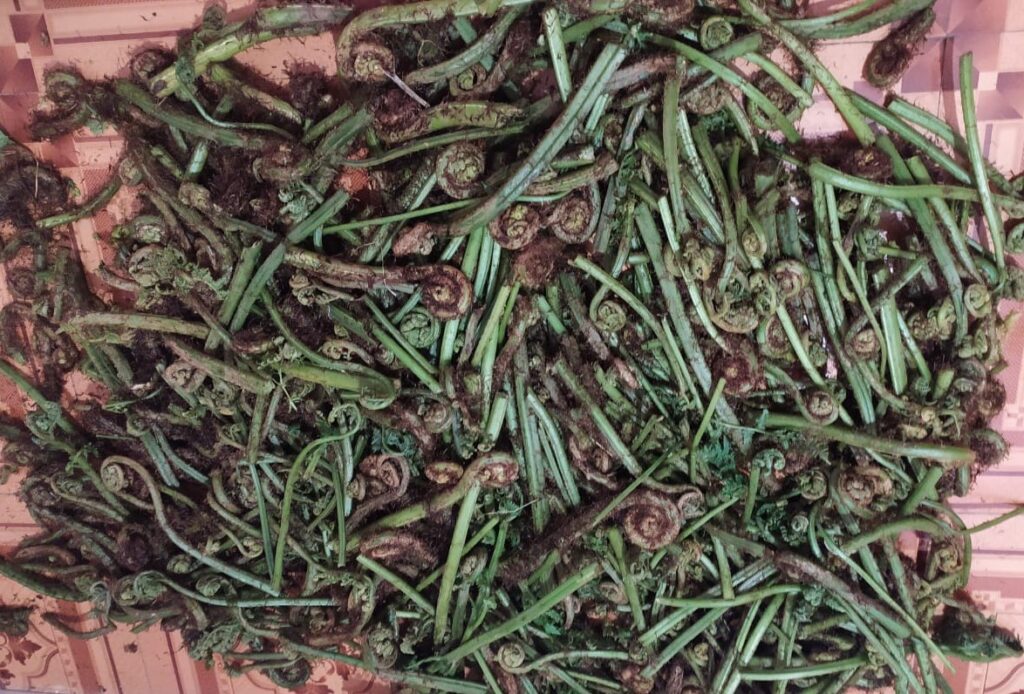 The tender fronds are used as vegetable.Special curries like dum (दम) and madhra (मधरा) and pickle. Young fronds are stir-fried and used as a salad. Lingad salad is served in hotels and restaurants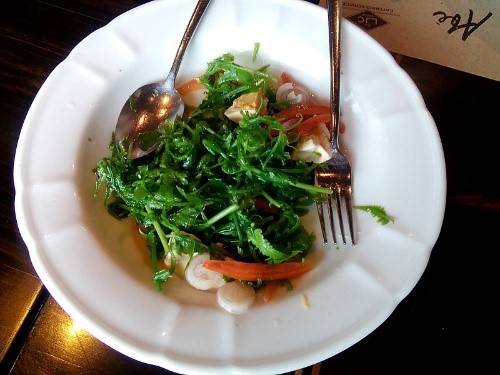 Preparing lingad vegetable:
The fronds are hairy. Therefore the hairs have to be removed before cooking. This is easily done by rubbing the fronds with a thick piece of cloth. Some prefer to remove the hairy skin which is quite thin and is easily peeled off. Then the fronds are cut into small pieces and cooked as per choice.
Ingredients required:
Lingad fronds, 1 kg; mustard oil, 3-4 table spoons; coriander powder, ½ table spoon; fenugreek powder,1tea spoon; cumin seed, 1 table spoon turmeric powder, 1 table spoon; red chillies, 2-4, medium sized chopped onion, 1; chopped garlic cloves, 4-5; salt according to taste;curd, 4 cups; chopped green coriander leaves, ½ cup amount; garam masala, 1/2; table spoon.
Method :
The fronds are cut into pieces and boiled. These are then stir fried after adding salt and spices in a sequence as listed above and eaten as vegetable with chapaties. Chopped fronds can directly be sauted in hot mustered oil along with spices listed above in sequence and cooked till become soft then served.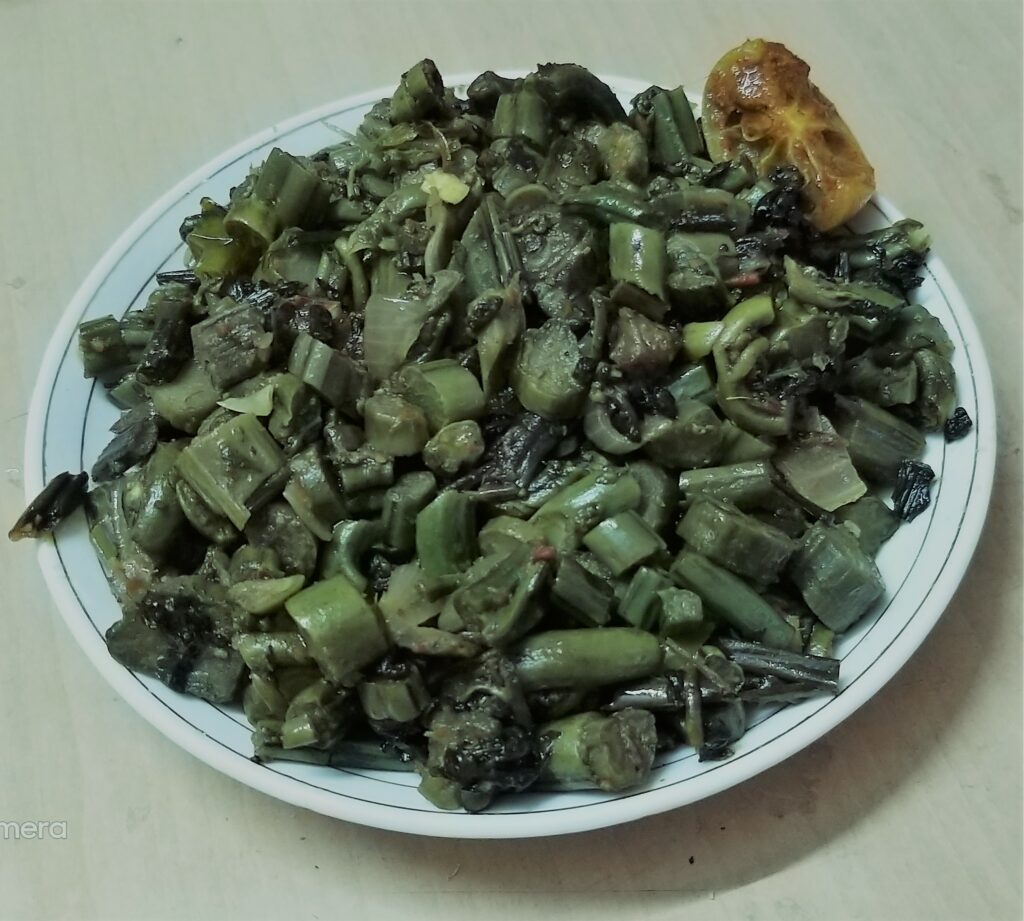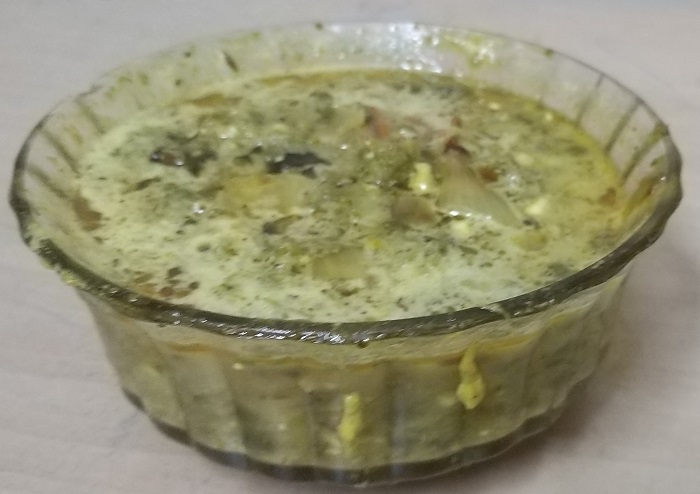 To prepare curries add curd and cook for another 10 to 15 minutes, then add garam masala and garnish it with chopped green coriander leaves then serve with rice.\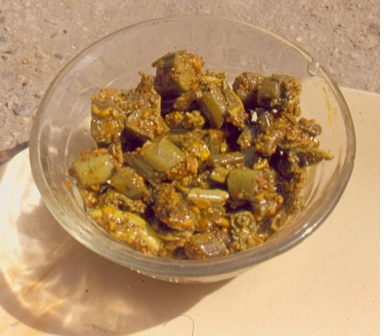 Pickle is also prepared and very famous in state usually served with kachouri and siddu in local, national or international fairs.
Nutritive value:
The young tender fronds are mucilaginous. One hundred grams of fresh fronds contain 91.3 g moisture, 1.0 g protein, 100 mg fat, 1.4 g fiber, 600 mg of mineral matter. They also contain 0.98 mg/100 g of beta carotene1 .
Medicinal Value:
A decoction of lingdu leaves is used as a tonic for women after child birth. This plant is used in many traditional medicines too 2.
Lingad as source of income:
Lingad is quite good source of earning for villagers, particularly women. A discussion by this writer with lingad sellers in Mandi town revealed that on an average about 100 kg of lingad is sold daily at Mandi town only for a season of 80 days. This quantity is worth 1,60,000 rupees at an average price of 20 rupees a kg. Lingad is sold in all big and small towns of HP. So the total annual trade in lingad must be worth several lakh rupees.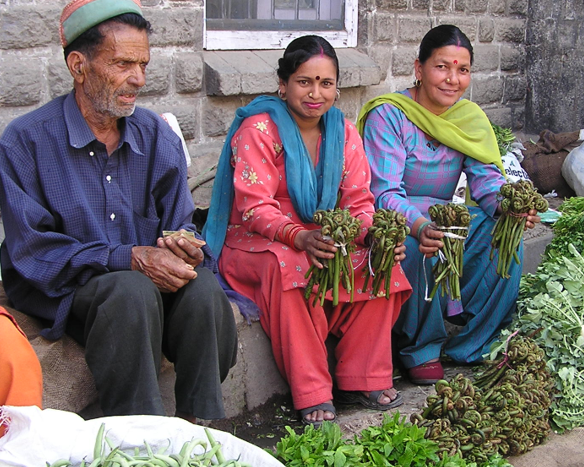 The lingad has to be collected from odd and difficult places located deep inside the forests. The lingad sold at Mandi comes from Kandhi area and the sellers are mostly from Kataula area. The villagers go to the forest to harvest lingad in groups of 3 to 4. A person cannot bring more than 25 kg as the stuff has to be carried on head on arduous forest paths. The fronds are then cleaned, cut and made into small bunches at home, mostly during the night. According to lingad sellers, a 60 kg lot of lingad collected from forest costs them around 500 rupees including labour and bus fares. They say that one can make about 125-150 rupees a day from it. 36 years old Begi Devi, who is regularly bringing lingad to Mandi during the past three years, says that her net profit from lingad sale last year was rupees 15,000.
Lingad is also a good source of bread and butter for poor women of Western Himalayas. Women of Mandi area of Himachal Pradesh prepare lingad pickle and sell it through various SHG in SHG fair at Seri munch of Mandi town at the rate of 400 Rs per Kg. People relish lingad pickle along with siddu in famous Shivratri fair of distt. Mandi. Lingad pickle is in great demand during this time and is a good source of earning for the people of different region of Himachal Pradesh.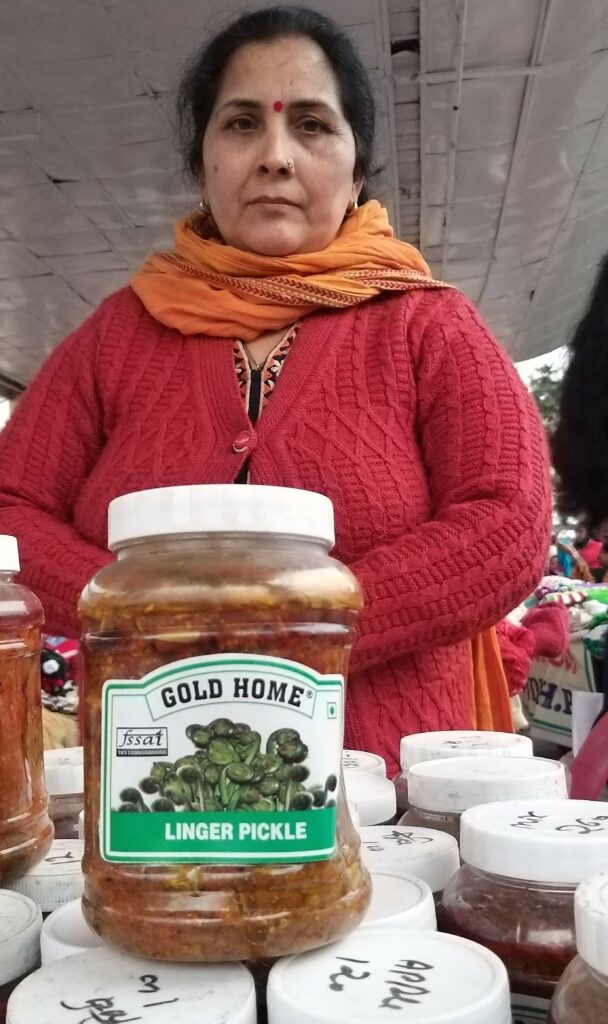 No fear of extinction:
The happiest part of lingad story is that unlike other useful plants harvested from the wild, there is no decline in the natural population of lingad. All the lingad sellers opined unanimously that the availability of these plants in the forest has remained the same. It might be due to the reason that lingad plants are not dug up like medicinal herbs. The individual fronds are cut at the ground level. The natural regeneration therefore remains unaffected.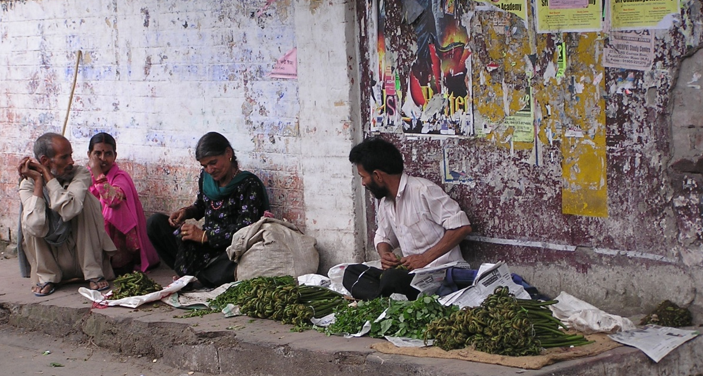 lingad selling at another location in Mandi town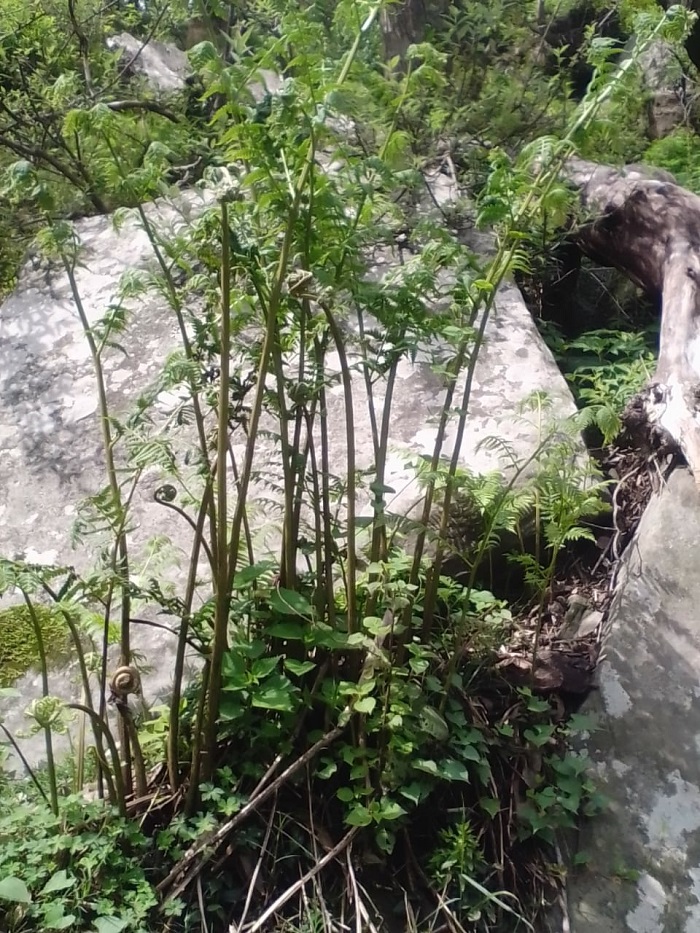 A fully grown lingad plant. It cannot be used as it has turned woody.
References:
Anonymous, (1952), The Wealth of India:Raw Materials, Vol. III, CSIR, New Delhi.
Kirtikar KR, Basu BD. (1935); Indian Medicinal Plants, Vol. 1-4. Lalit Mohan Basu, Allahabad.