Family: Asteraceae
Synonym: Prenanthes japonica, Crepis japonica
Common Name: Asiatic or oriental false]hawk's beard. Japanese Hawkweed
Local Name- Choti Duhali (छोटी दुधली)
Choti Dudhali is a cosmopolitan edible weed of North Western Himalayas with rich medicinal value. It is commonly seen growing in moist shady places in garden, orchards , waste ground, cultivated fields, roadsides, mountain slopes, mountain valleys, forests and forest margins upto at an altitude of 3500m.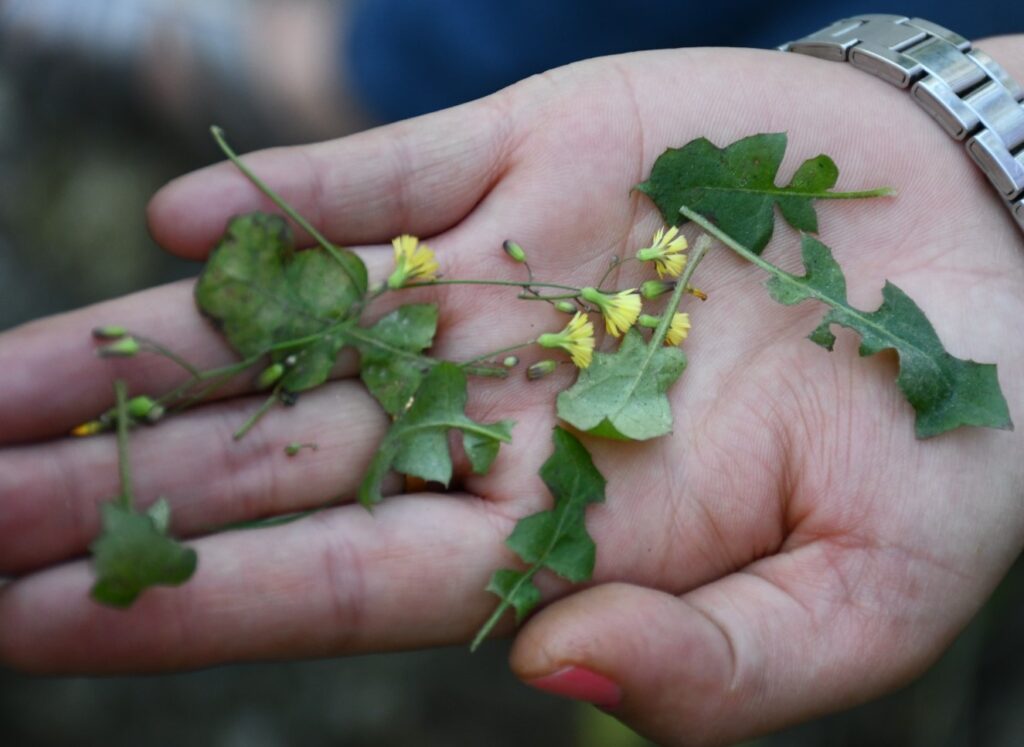 Choti Dudhali superficially resemble either with Sonchus asper. or Taraxaccum officinale where seedlings develop into rosette green foliage, but unlike to these plants its leaves are hairy. Unlike Taraxaccum officinale (Duhali) where flowering stalks are unbranched and smooth, with only one type of leaves, this plant is with dimorphic leaves. The upper leaves are more linear and lack stalk. choti dudhali has leaves on flowering stems and can become highly branched. In the rosette stage it is much thicker. Like Sonchus asper and Taraxaccum officinale its leaves also yield milky sap (Dudh) when torn that's why these plants are given the local name Dudhali . But as the flowers of this plant are comparatively smaller than other two, so it is locally called as choti dudhali It is propagated by seeds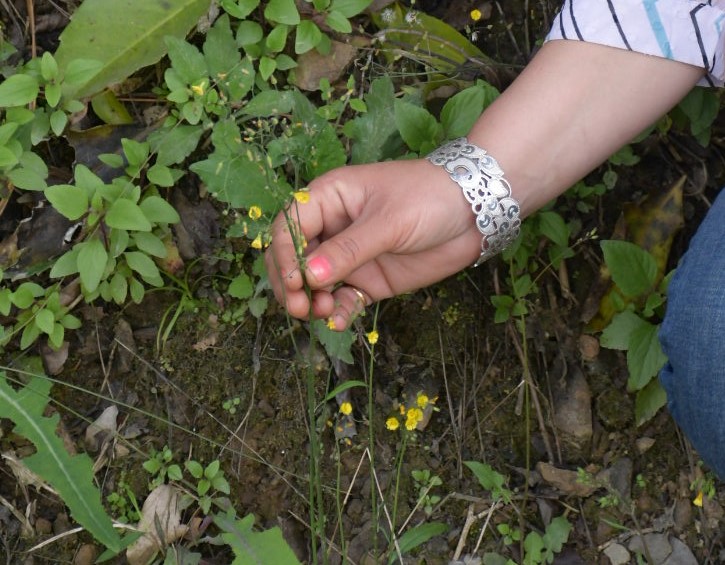 Antioxidant, antiallergenic, antiviral and antitumor properties have been reported from this plant 1, so choti dudhali needs to be included in the food plate as a source of food and medicine. Young leaves of this plant can be taken both raw or cooked. As leaves are bitter in taste these can be added to parantha, pakoras, kachru (Chilla) and other traditional dishes of Western Himalayas in small amounts. Young leaves can be cooked as leafy vegetable saag along with other available greens.
.Choti Dudhali is harvested from the wild as a source of food and medicine for local personal uses. It is an excellent forage for grazing livestock as it is considered to enhance the milk yield of milch cattle. .Choti Dudhali can also be grown as ornamental plant in garden.
Choti Dudhali Plant:
Plant is erect, glabrous or sparsely hairy, annual to biennial herbs , 15-60 cm high.
Stem slender, solitary, with many flowering branches.
Leaves chiefly radical and rosette-forming, oblanceolate, obovate, pinnately lobed or pinnatifid, membranous, 5-15* 1.5-4 cm; cauline leaves few, smaller.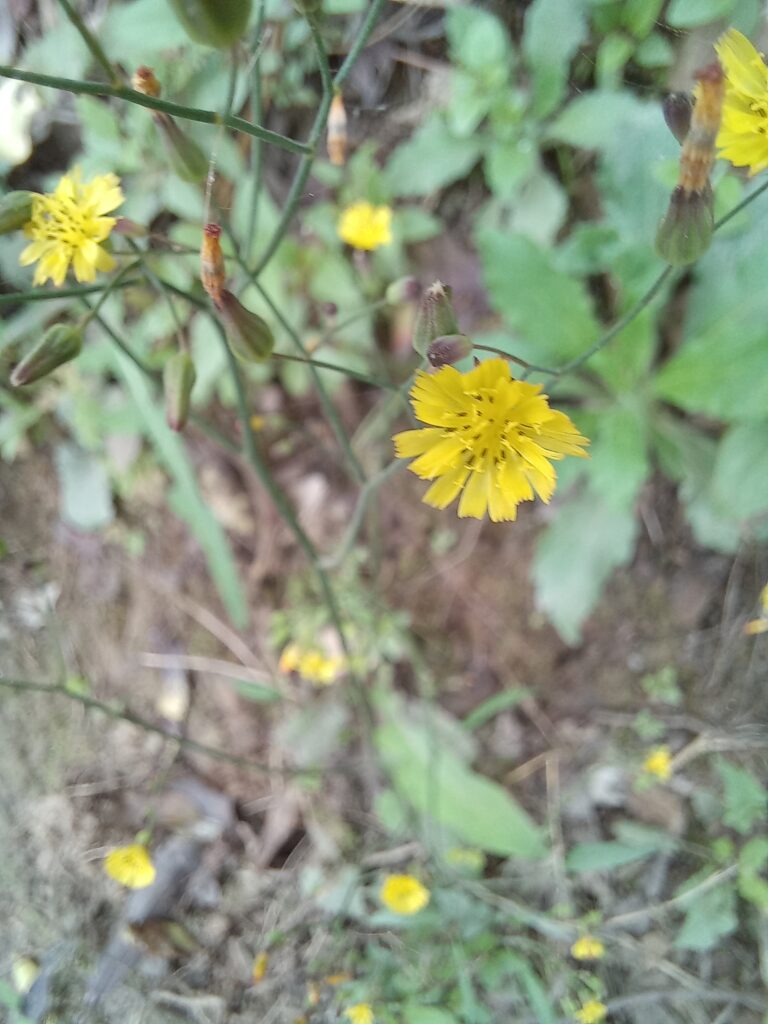 Heads many, yellow, homogamous, ligulate, 5-8 * 2-3mm, arranged in terminal, corymbose, pedunculate panicles. Involucral bracts 6-8; narrowly oblong, green, erect.
Achenes reddish-brown, flattened, ca 2mm long, finely ribbed.
Pappus white, longer than the achenes.
Young leaves or plant of choti dudhali are best harvested for edible uses from winter to spring or rainy season of the year
Edible Uses
Young leaves and young plants are eaten both raw or cooked. Raw these are taken as a salad and cooked plant is taken as a food supplement in saag, kachru, paratha etc.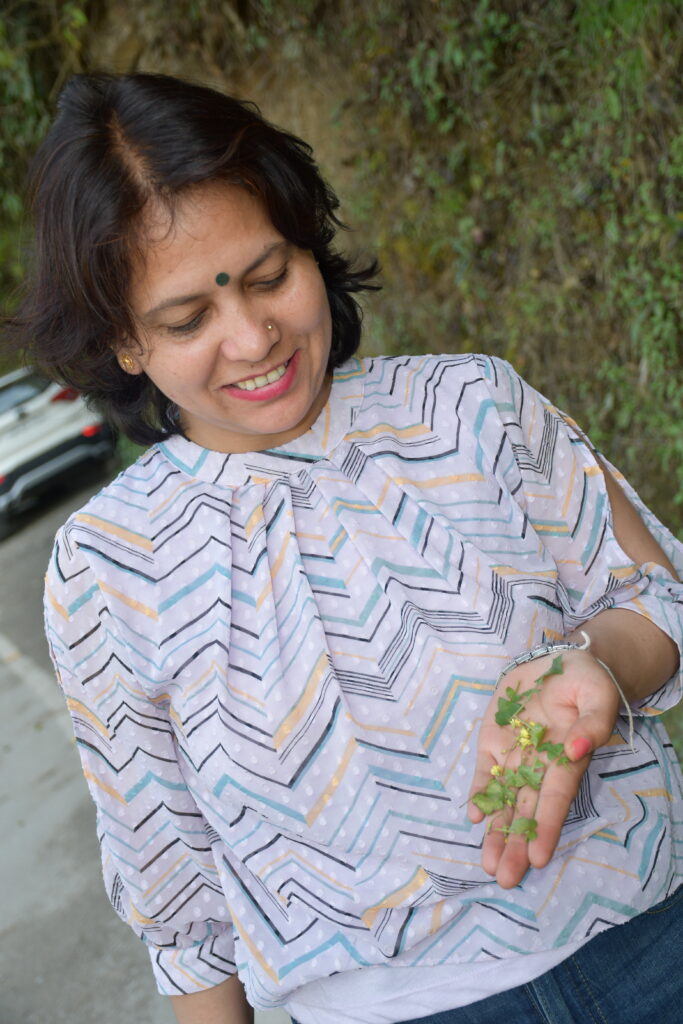 Saag:
Ingredients:
Above ground parts of choti dudhali and other wild potherbs,of winters like Cardamine hirsuta, Stellaria media, Trifolium repens etc 1 kg; mustard oil, 2 tablespoons; coriander powder 1 tablespoon; fenugreek powder, ½ table spoon; cumin seed ¼ tablespoon; turmeric powder, 1/4 tablespoon; red chilies, 2-3; chopped onions 2-4; garlic, 4-5 cloves; ginger paste ½ table spoon and salt according to taste.
Method:
Boil chopped plant parts and they become soft. Then mesh manually or in a mixer. Then sauté with hot mustard oil and the spices listed before in sequence. This sauted saag is then ready and can be served as such or can be mixed with 2 or 3 chopped onion and cooked for another 2 to 3 minutes before serving.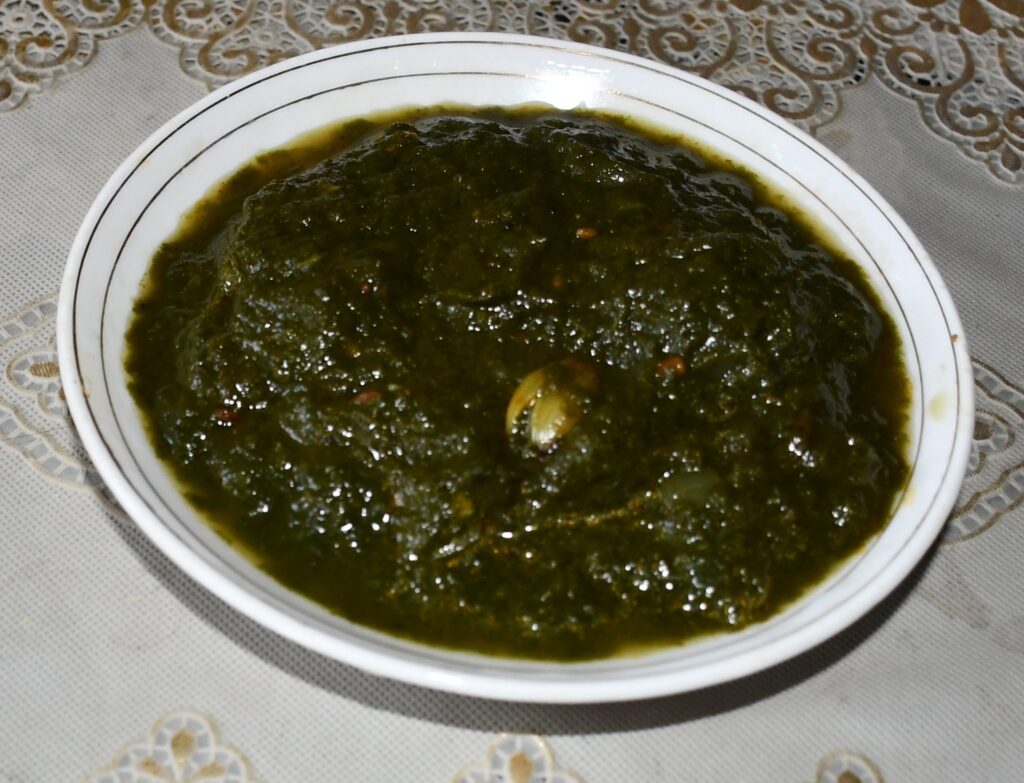 Pakoras:
Ingredients:
Fresh leaves of choti dudhali,250 g; besan (black gram flour) or corn flour,1/2 kg ;mustard oil, 10-12 table spoon; 1 cup fresh coriander plus curry and mint leaves (chopped), 5-6 green chilies, ½ table spoon turmeric powder, 2-3 medium sized chopped onions, 2-3 medium sized finely chopped potato and salt according to taste.
Method:
Make a paste of leaves, chopped potatoes, basen and spices listed above. Mix well and make a small ball of this paste. Put mustard oil in a fry pan and give these balls a deep fry.Repeat this process till the whole paste is over. Pakoras are now ready to serve. Serve these hot with chutney or tomato-ketchup.
Kachru is a traditional dish of Western Himalaya cooked as chilla with spices and basen or corn flour. It is served as an evening snack with tea/ chutney/tomato ketch-up.
Ingredients:
For preparing a kachru, ingredients required are 500 fresh leaves of of choti dudhali, 300g besan (black gram powder) or corn flour. 1 cup amount fresh coriander leaves,1/2 tablespoon ajwain, 3-5 green chillies, ½ table spoon turmeric powder, 2-3 chopped onions and salt according to taste
Method:
Make a paste of leaves, besan or corn flour and spices. Heat some oil on a flat heating pan. Put this paste over a pan and cook for 15 to 20 minutes then kachru will be ready to serve.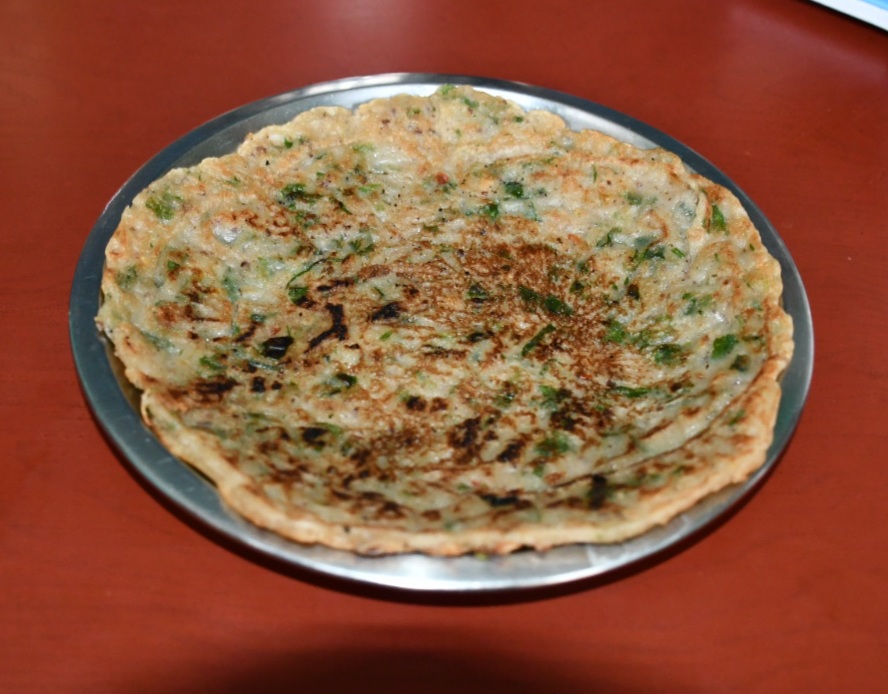 Seek professional advice before treating this plant medicinally.
Medicinal Uses:
Choti dudhali is locally considered as a blood purifier. Antioxidant, antiallergenic, antiviral and antitumor properties have been reported from this plant1,so it is helpful to boost immunity and improve health. The plant is antitussive and febrifuge 2. It is also used in the treatment of boils and snakebites2.For reducing pyrexia, detoxification and atopy. Internally the plant is helpful for the remedies of cold, sore throat, and diarrhoea, and externally as medicated paste to relieve shingles 3,4.On the other hand, the juice of the root possesses antilithic properties 5.The leaves of choti dudhali applied to wounds act as a styptic and heal them quickly.it is taken as appetizer, blood purifier and helpful to cure constipation and boils 6
Chemical constituents:
Sesquiterpenes: glucozaluzanin C, crepiside E, crepiside G, crepiside B, crepiside A, crepiside H, crepiside I, crepiside D, crepiside C, crepiside F.Flavonoids: luteolin-7-O-glucoside
Other metabolites: 3,5-di-O-dicaffeoylquinic acid, 3,4-di-O-caffeoylquinic acid 7,8
Other uses:
Choti  dudhali  is a forage for  livestock, it is considered to enhance milk yield in milch cattles. After flower stalks have appeared mashed leaves can be used to soothe insect bites/stings 9.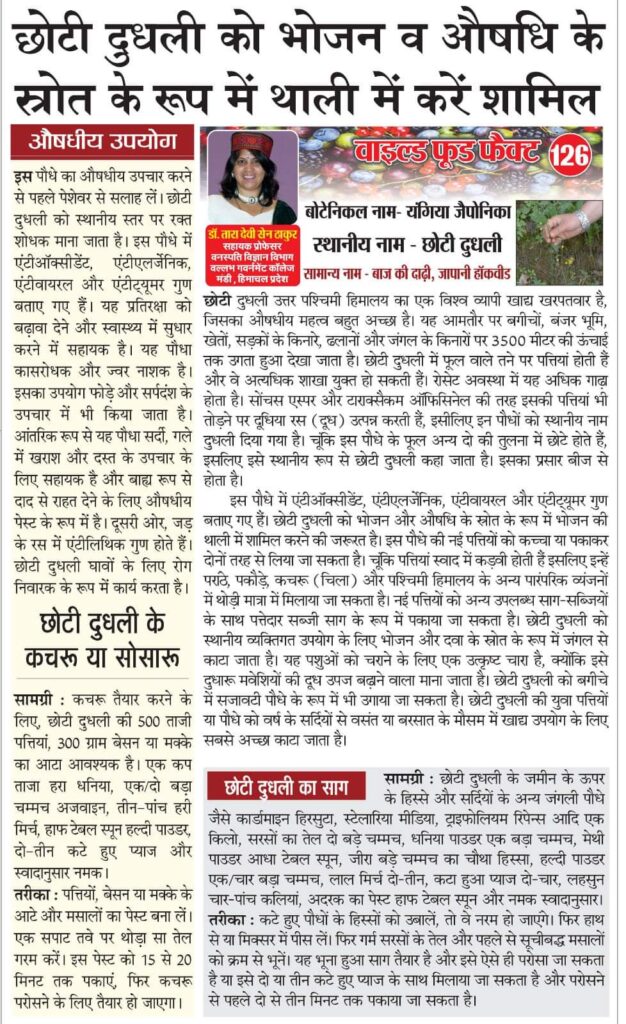 References:
1. da Silva, L. D. A. R., dos Santos Moreira, N., dos Santos Nascimento, L. B., Leal-Costa, M. V., & Tavares, E. S. (21.012). Foliar morphoanatomical characterization of medicinal plant Youngia japonica (L.) DC (Asteraceae). Planta Medica, 78(11), PL4.
2. Duke. J. A. and Ayensu. E. S. (1985): Medicinal Plants of China Reference Publications, Inc. ISBN 0-917256-20-4
3. Munira, S.; Kabir, H.; Bulbul, I.J.; Nesa, L.; Muhit, A (2018,).; Haque, I. Pharmacological activities of Youngia japonica extracts. Annu. Res.Rev. Biol. 25, 1–14.
4. Ooi, L.S.; Wang, H.; He, Z.; Ooi, V.E (2006). Antiviral activities of purified compounds from Youngia japonica (L.) DC (Asteraceae,Compositae). J. Ethnopharmacol. 106, 187–191.
5. Rahman, A.H.M.M. (2018) : An ethnobotanical investigation on Asteraceae family at Rajshahi,
6. Acharya, E., & Pokhrel, B. 2006. Ethno-medicinal plants used by Bantar of Bhaudaha, Morang, Nepal. Our nature. 4(1):96-103. https://doi.org/10.3126/on.v4i1.50
7. Miyase, T.; Ueno, A.; Noro, T.; Kuroyanagi, M.; Fukushima, S (1985). Studies on sesquiterpene glycosides from Crepis japonica Benth.Chem. Pharm. Bull. 33, 4451–4456.
8. Ooi, L.S.; Wang, H.; Luk, C.-W.; Ooi, V.E (2004). Anticancer and antiviral activities of Youngia japonica (L.) DC (Asteraceae, Compositae).J. Ethnopharmacol. , 94, 117–122.
9.https://www.foragingtexas.com/2008/03/japanese-hawkweed.html