Family: Nyctaginaceae
Common Name: Spreading Hogweed
Synonyms: Axia cochinchinensis, Boerhavia adscendens, Boerhavia caespitose, Boerhavia ciliatobracteata, Boerhavia coccinea leiocarpa, Boerhavia coccinea paniculata, Boerhavia friesii, Boerhavia paniculata, Boerhavia repens diffusa, Boerhavia xerophila.
Local Name: Punarnava(पुनर्नवा)
Punarnava is a perennial diffuse herb of Western Himalayas with stout root stock and many procumbent branches. It is widely known for its rejuvenating, re-establishing youth, immunity booster, anti-aging, brain power, strengthening life and disease prevention properties that might be the reason that name Punarnava is given to this plant. This plant has been classified as "Divya rasayana" herb which provides immunomodulation and hepatoprotection. Its stems branch mainly from the base, they are prostrate when young, but become ascending to erect as plant mature or reach flowering stage.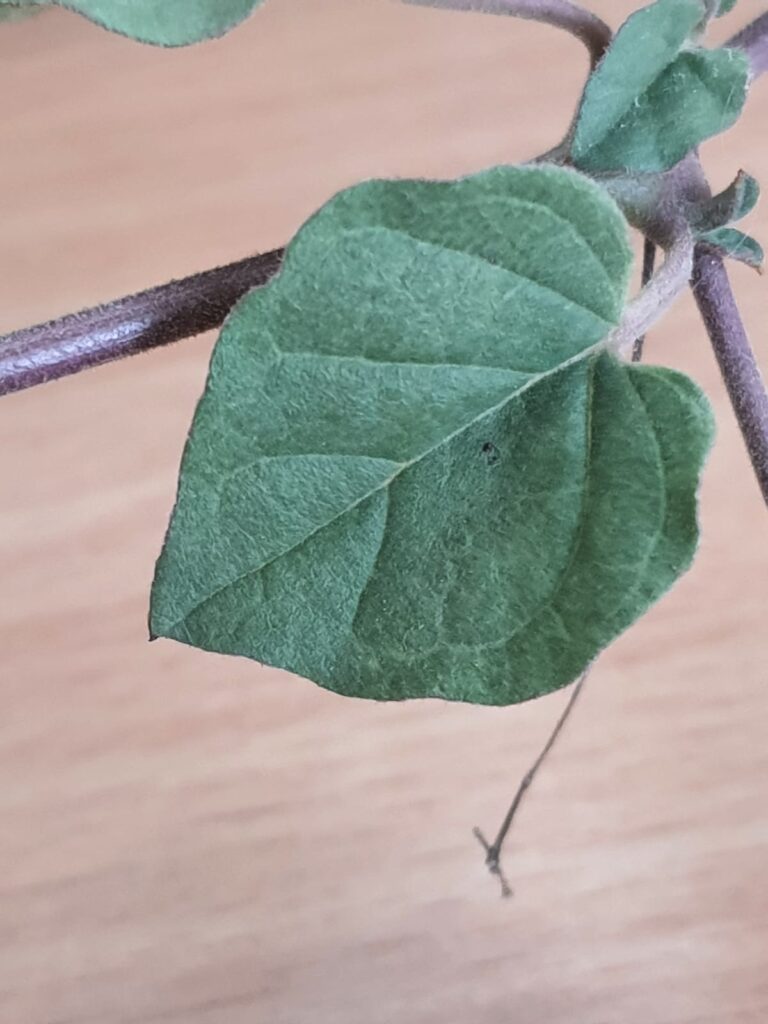 Punarnava usually prefers well-drained sunny habitat, so commonly seen growing on slopes along roadsides, in waste places, near habitations, cultivated fields and in open cleared patches and in forests up to an altitude of 1500m. It is propagated by seed, which germinates with the start of the first rains and continues to germinate throughout the rainy season.
Quite often Punarnava is considered a weed of cultivated land and lawns. Most significant plant part is root of which arealso used in AYUSH medicines. These are best used as treatment for diuretics, jaundice, dropsy, and gonorrhoea. Leaves, tender shoots and seeds of Punarnava are edible and eaten cooked. Traditionally tender plant parts are cooked as leafy vegetable saag along with other edible herbs. Young plant parts can be cooked with some modern twist like added to soup, parantha, pakoras and kachru (Chilla) etc to harness their rich medicinal value. Seeds are eaten cooked as dalia or palau along with other cereals.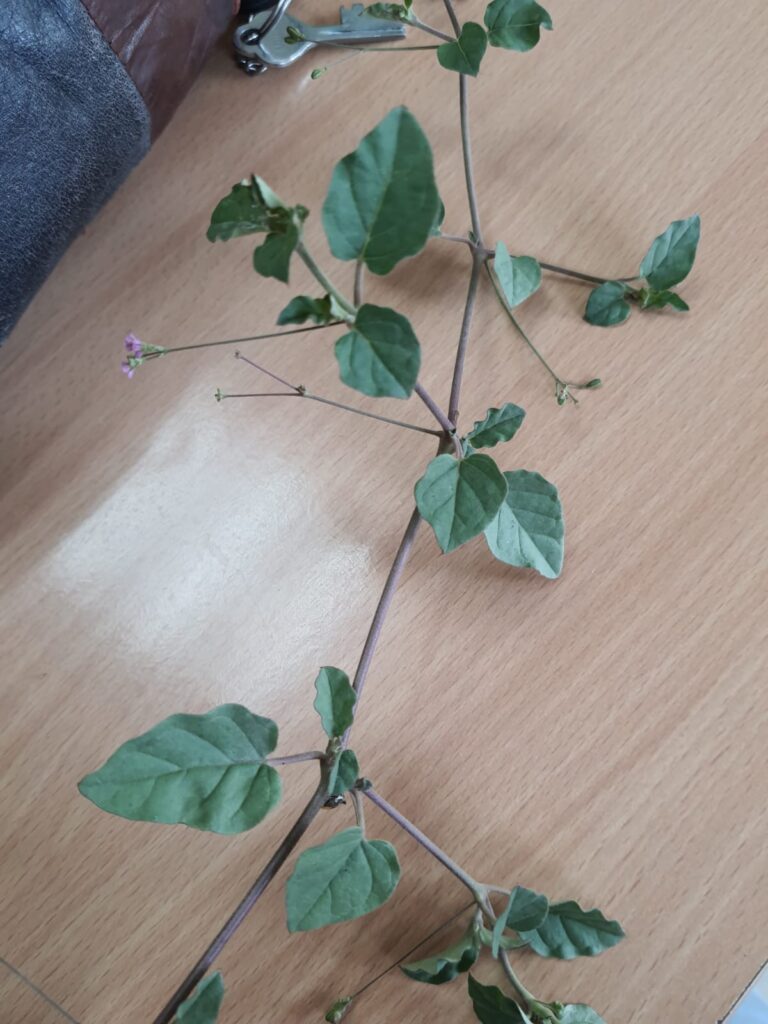 Punarnava is one of very popular medicinal plant of Western Himalayas and quite often used in Ayurveda formulations. It is gathered from the wild as a source of food, fodder and medicine for local personal uses and sometimes also sold as a source of income. It start yielding flowers only when 4 to 5 weeks old and can produce fruit round the year if sufficient water is available
Punarnava Plant:
Perennial, spreading, much-branched, prostrate or ascending herbs about 2 metres long.
Stems several from woody rootstock, often flushed with purplish- red.
Leaves in unequal pairs, broadly ovate or suborbicular, cordate, upto 5 cm long, pbtuse, entire or sinuate.
Flowers pink or whitish, minute in small bracteate umbels of 4-10, arranged in diffuse, axillary and terminal panicles. Perianth pink; linb 5- lobed. Stamens 2-3. Anthocarps fusiform, 5-ribbed, viscidly glandular on the ribs.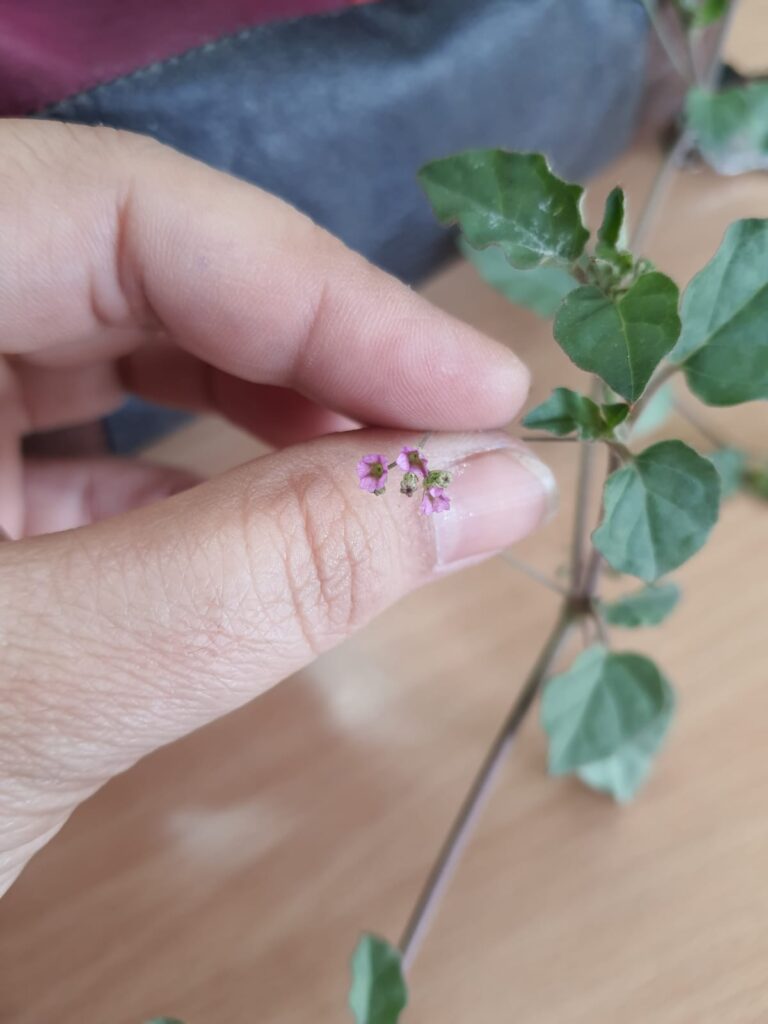 Fruits highly viscid, easily detachable, one seeded, indehiscent with a thin pericarp.
Edible plant parts of this plant can be harvested in most of part of year as Punarnava can produce fruit round the year. For ensuring sustainable development harvesting should be done by rotating habitat.
Edible Uses
Leaves, roots and seeds of Punarnava all are edible and eaten cooked. Leaves are cooked as leafy vegetable saag alongwith other wild or cultivated greens. Leaves can also be an excellent addition in various traditional or modern dishes to harness rich medicinal value of this plant. Seeds in addition with cereals are cooked in palau, oats, dalia etc as follow:
Saag:
Ingredients:
Above ground parts of Punarnava, and other wild potherbs, 1 kg; mustard oil, 2 tablespoons; coriander powder 1 tablespoon; fenugreek powder, ½ table spoon; cumin seed ¼ tablespoon; turmeric powder, 1/4 tablespoon; red chilies, 2-3; chopped onions 2-4; garlic, 4-5 cloves; ginger paste ½ table spoon and salt according to taste.
Method:
Boil chopped plant parts and they become soft. Then mesh manually or in a mixer. Then sauté with hot mustard oil and the spices listed before in sequence. This sauted saag is then ready and can be served as such or can be mixed with 2 or 3 chopped onion and cooked for another 5 to 10 minutes before serving.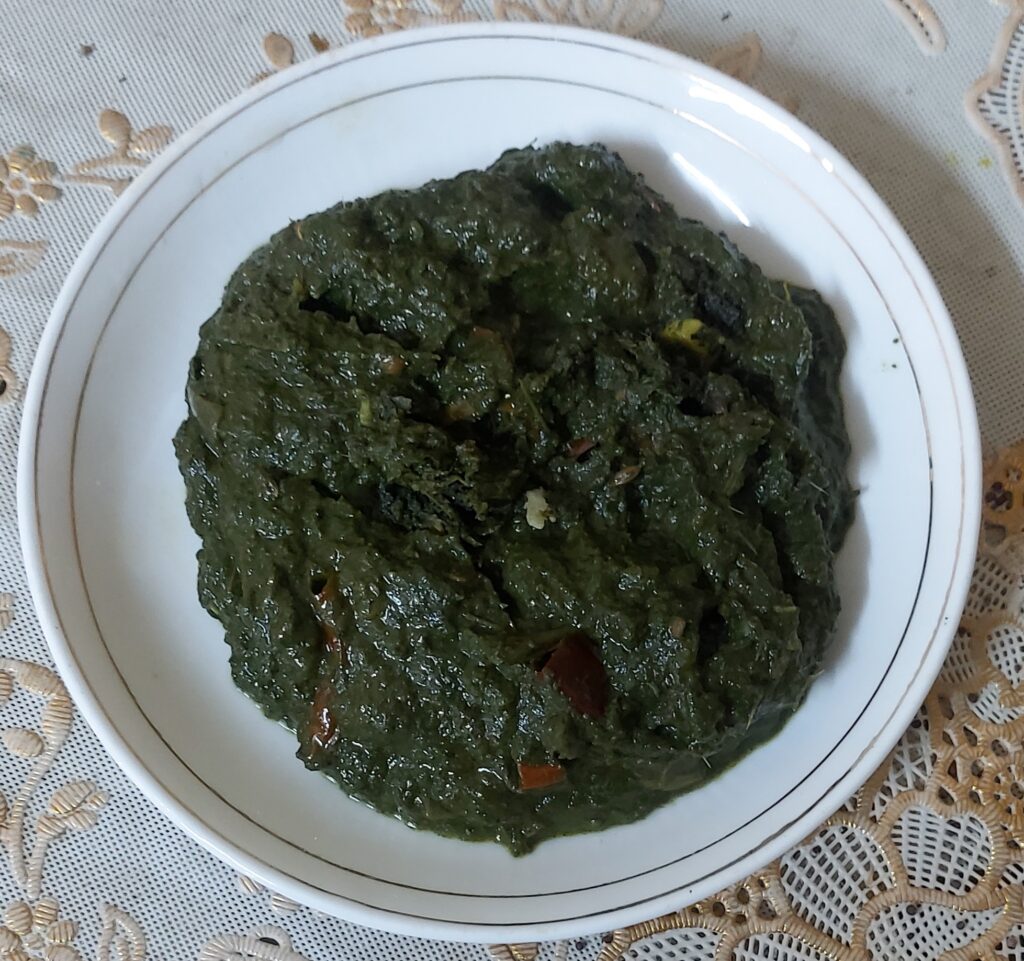 Parantha:
Parantha is a morning breakfast prepared served with curd/butter/pickle/chutney etc. It can be cooked with any greens/boiled potatoes/cheese or some wild boiled fruits like fig spp.
Ingredients:
Finelychopped leaves of Punarnava, 250-300 g; boiled medium sized potato/ fig fruits; 4-5, Oil or ghee. 8-10 table spoon; wheat flour, 4 cup amount; chopped medium sized onion, 2-3, red or green chilies, 3-4, black pepper, ¼ tea spoon, black salt according to taste.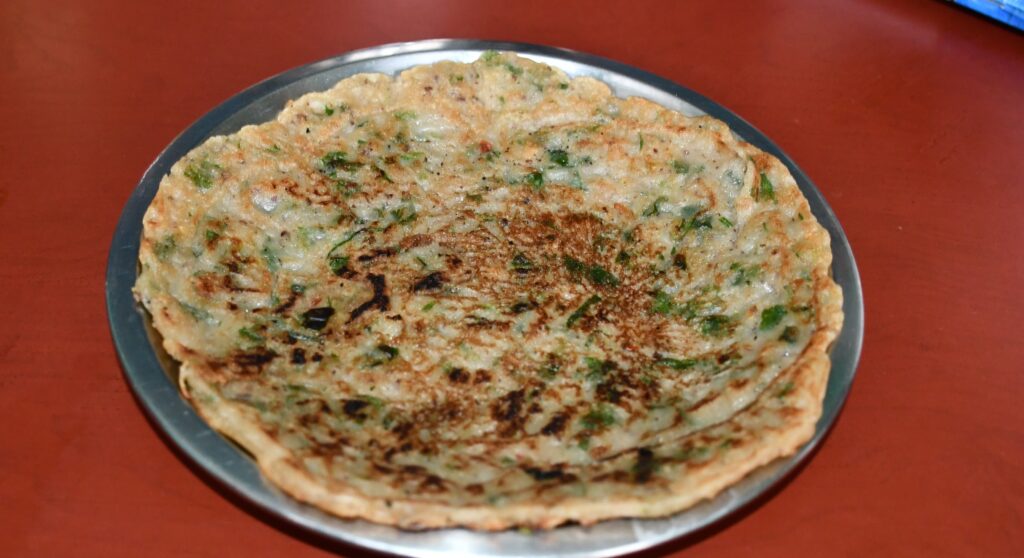 Method:
Mesh boiled potato/ fruits. Add to it chopped Punarnava leaves and spices listed above. Mix well to make Fine paste. Now parantha dough is prepared by mixing wheat flour and water. Knead dough till it is soft, let it rest for some time. Make small round balls of dough, stuff paste inside balls and roll to thin layered flat breads, now in hot tawa, smear some oil and place flatbread over it. Cook both sides by applying oil. Now parantha is ready to serve. Serve it hot with chutney/ tomato ketchup/ pickle / butter/ curd according to choice.
Kachru or sosaru:
Kachru is a traditional dish of Western Himalaya cooked as chilla with spices, greens and basen or corn flour. It is served as an evening snack with tea/ chutney/tomato ketch-up.
Ingredients:
For preparing a kachru, ingredients required are 400 to 500g fresh leaves of Punarnava, 1/2 kg besan (black grampowder) or corn flour. 1 cup amount fresh coriander leaves,1/2 table spoon ajwain, 3-5 green chillies, ½ table spoon turmeric powder, 2-3 chopped onions and salt according to taste
Method:
Make a paste of finely chopped Punarnava leaves, besan or corn flour and spices. Heat some oil on a flat heating pan. Put this paste over a pan and cook for 15 to 20 minutes then kachru will be ready to serve.
Pulao:
Palao is a spicy rice dish prepared by cooking rice with, green vegetables and spices.
Ingredients:
Rice,2 cup amount; Punarnava seeds,1/2 cup amount, peas, ¼ cup amount; finely chopped beans, ¼ cup amount; mustard oil, 3-4 table spoons; coriander powder, 1 table spoon; fenugreek powder, 1 tea­­­­­­­­ spoon; cumin seed, 1 table spoon turmeric powder, 1 table spoon; red chillies, chopped medium sized onion, 1-2;chopped tomato,2; cinnamon powder, ¼ tea spoon; cloves, 4;turmeric powder, ½ table spoon; 2-4; green coriander leaves(chopped), 1/2 cup amount; branded garam masala,1/2 tablespoon amount; salt, according to taste.
Method:
Take oil in a pressure cooker. In hot oil saute spices listed above with rice, green vegetable and Punarnava seeds. Add 6 cup amount water to it stir well and add garam masala. Close the lid and cook over medium flame for 2 whistles. When the 1st whistle is completed, reduce the flame to low and cook until another whistle. Turn off the flame. Let it cool down at room temperature. Open the lid carefully and fluff the rice with a fork. Transfer it to a serving bowl and garnish with fresh coriander leaves. Serve with desi ghee or curd.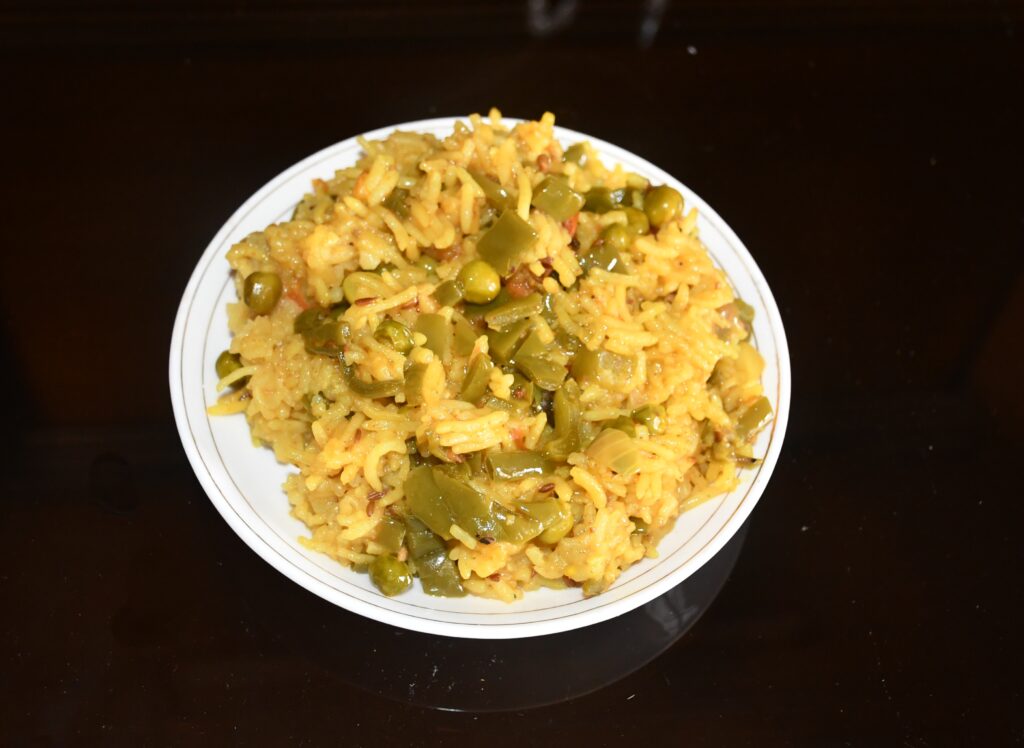 Food Value:
The nutritional composition of the leaves per 100 g is moisture,76.04%, carbohydrate, 17.14% and vitamin C, 40.00mg. The mineral contents of the leaves were found to be P, 151.45 mg; Na, 160.21; Ca, 218.24 mg; K, 0.86; Fe, 0.034 mg, Mn, 0.38mg; Al.0.36 and Mg, 8.93. Main phytochemicals are Saponin, 2.74 (%); Tanin, 9.84%; Alkaloid, 0.93 ; Total Phenol 0.53%;, Flavonoids, 0.89%)1.
Seek professional advice before treating this plant medicinally.
Medicinal Uses:
Punarnava is used to treat a large number of body ailments, especially liver problems. Plant is considered cooling, febrifuge, laxative, re-establishing youth, anti-aging, brain power strengthening and cardiac tonic. It is useful against jaundice, anemia, dyspepsia, constipation, cough, bronchitis and general debility.
Chemical constituents:
The contain alkaloids, triacontanol hentriacontane, Beta-sitosterol, ursolic acid, 5-7 dihydroxy-3, 4-dimethoxy-6, 8-dimethoxyflavone, glucose, fructose, sucrose and hypoxanthine-9-L-arabinoside, moulding hormone, Beta-ecdysone 2.
Other Uses:
Plant is considered to increase milk yield in milch cattle.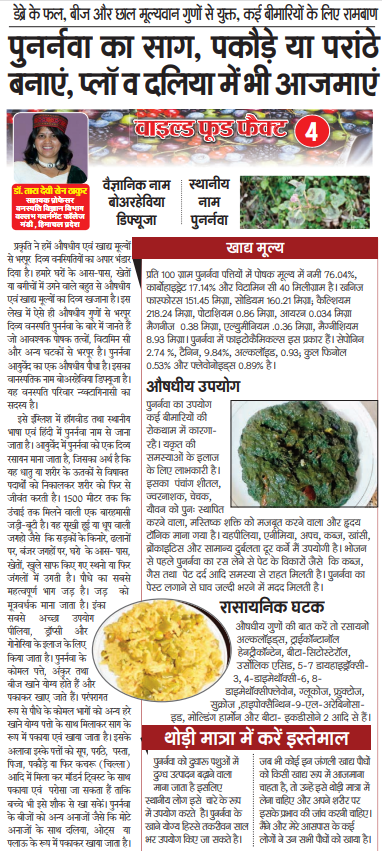 References:
1. Puranik, V., Tripathi, D. K., Kaur, D., & Chauhan, D. K. (2012). Nutritional evaluation of leaves of Boerhaavia diffusa L. and Andrographis paniculata (Burm. F.) Wall Ex Nees: implications for nutraceutical applications. Int J Pharm Bio Sci, 3, 315-21.
2, Purohit, V., Gao, B., & Song, B. J. (2009). Molecular mechanisms of alcoholic fatty liver. Alcoholism: Clinical and Experimental Research, 33(2), 191-205.