Family: Cucurbitaceae
Synonym: Momordica hispida
Local name: Jangli Karela (जंगली करेला ), Ban karela (बन करेला).
The climbing vines of jangli karela can be seen growing wild on hedges and small shrubs all over Himachal Pradesh upto an elevation of 1200 metres. It scrambles over the ground and also climb over the surrounding vegetation attaching itself with the help of its tendrils. But, it is not a very commonly growing plant.
In books on Indian plants, Momordica dioica is stated to be growing all over India, including areas having tropical climate. This seems to be a bit confusing as the same species cannot grow under such diverse climatic conditions. It seems that plant specimens from all areas have not been studied. It is quite likely that the Momordica dioica specimens from Himachal Pradesh vary from those from Central or South India.
Jangli karela plant grows wild in Himachal Pradesh and are not at all cultivated. The young green spiny fruits are cooked as a vegetable which is relished by local people. These fruits are quite palatable and do not taste bitter like cultivated karela (Momordica charantia).
The roots of jangli karela are tuberous. These are also said to be cooked in some parts of India, but not here in Himachal Pradesh.
Jangli karela plant:
Perennial climbers with unbranched, glabrous tendrils, dioecious; root tuberous.
Leaves broadly ovate, membranous, c. 6.0 x 5.0 cm, glabrous on both sides, deeply 3-5-lobed, lobes trianglular ovate or oblong, acute, with undulate or minutely remotely denticulate margin; petiole 1-3 cm long, puberulous.
Male flowers 5-6 cm across, yellow, on 4-6 cm long peduncles; bracts large, sessile, entire, glabrous, often ciliated or villous on both surfaces, cucullate, suborbicular or reniform, partly enclosing the flower; petals 2-3 x 1.5-2.5 cm, obtuse; female flowers yellow, on c. 2.5 cm long, ebracteate or minutely bracteate peduncles; calyx lobes linear-lanceolate, 5-6 mm long, villous; corolla similar to male flowers; ovary ovoid, covered with long and soft papillae.
Fruit ovoid or ellipsoid, 3-5 cm long, 2-3.5 cm across, yellow when mature, densely covered with soft spines, shortly beaked (rostrate) at apex.
Seeds somewhat compressed, 6-7 x 5-6 mm, irregularly corrugated.
Edible uses:
The spiny fruits of jangli kaela, when unripe, are used as vegetable. Here is the recipe for this vegetable.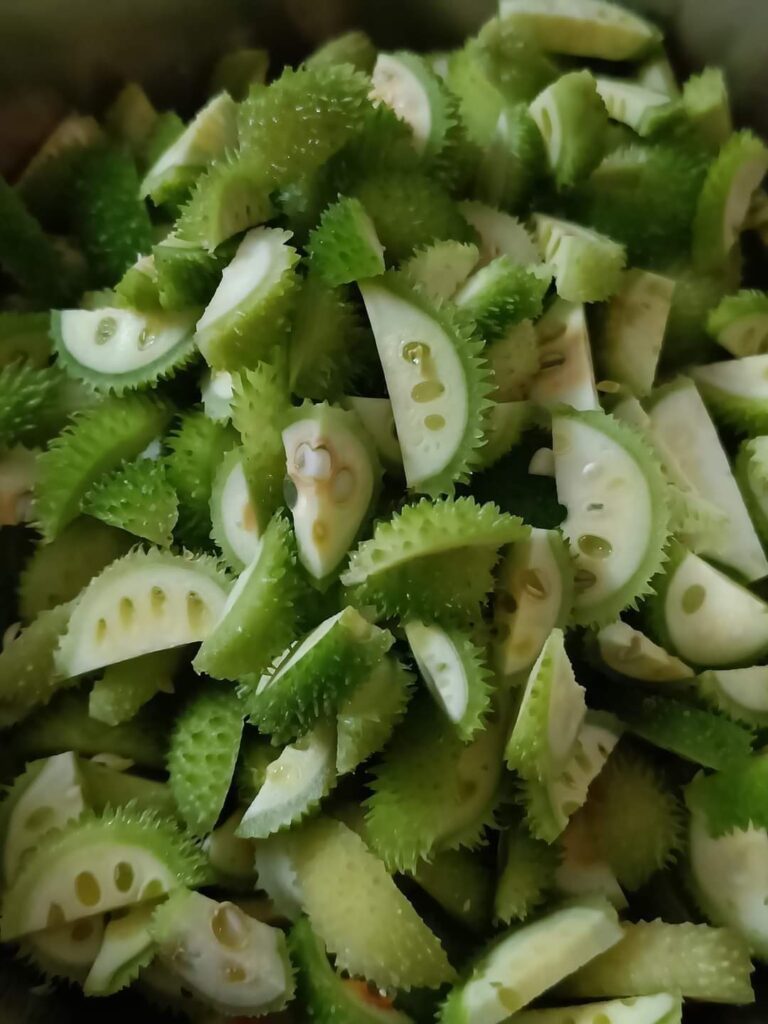 Ingredients required:
Raw fruits, 1 kg; mustard oil, 3-4 table spoons; coriander powder, ½ table spoon; fenugreek powder, 1 tea spoon; cumin seed, 1 table spoon; turmeric powder, 1 table spoon; red chillies, 2-4; medium sized chopped onion, 1; chopped garlic cloves, 4-5; tomato puree, half cup; salt according to taste; amchoor (dried mango powder), one heaped table spoon; garam masala,1/2 table spoon.
Method:
Cut round slices of fruits and sauté in hot oil along with whole spices like coriander, cumin seeds, chillies, turmeric, onion, garlic and tomato puree etc in sequence. Then cook for 20 to 30 minutes till they are soft. Then add amchoor and cook for another 4 to 10 minutes and garnish with garam masala and serve.
Ready to serve vegetable of jangli karela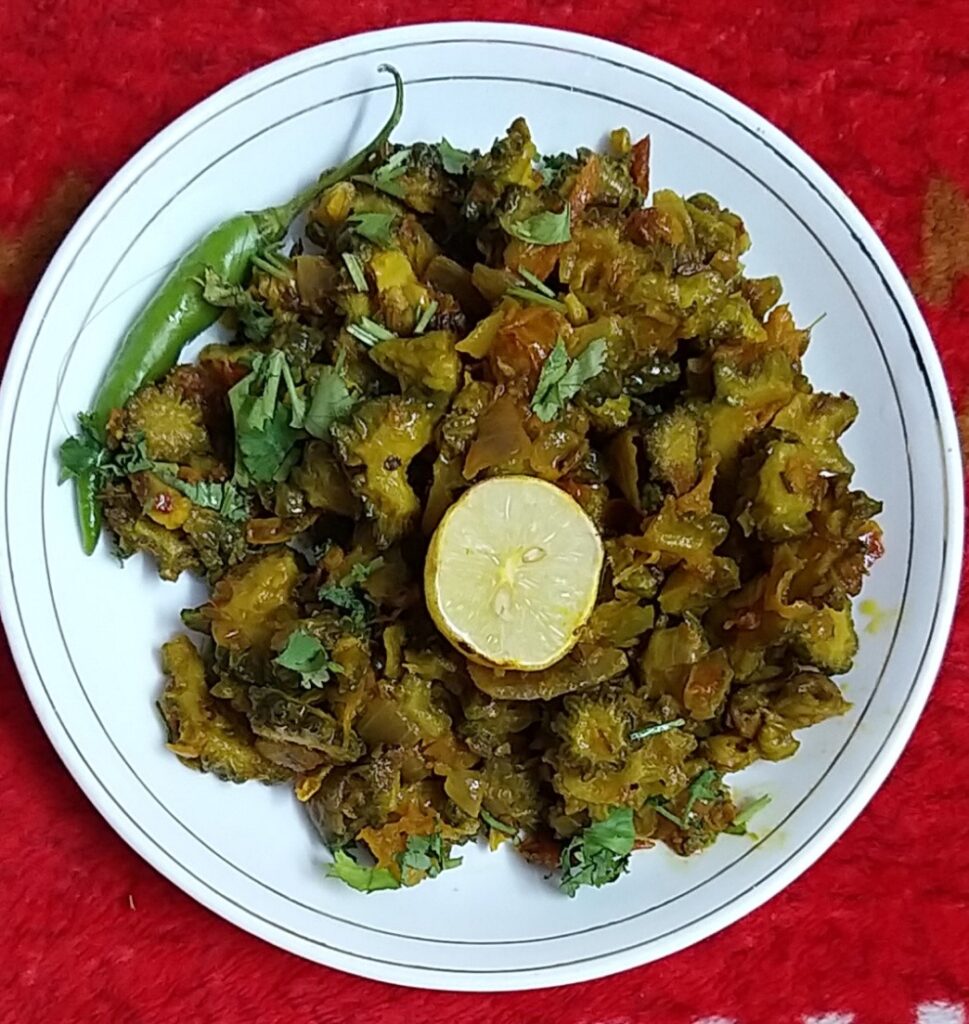 Food Value:
One hundred grams unripe fruits of jangli karela are reported to contain 84.1g moisture, 7.7 g carbohydrates, 3.1 g protein, 3.1 g fat, 1.1 g minerals and small quantities of essential vitamins like carotene, thiamine, riboflavin and niacin1 .
Seek advice from a professional before using this plant medicinally.
Medicinal uses:
The roots are used with benefit in head troubles, urinary calculi; as an errhine in jaundice. The leaves are aphrodisiac, anthelmintic; cure "tridosha", fever, consumption, asthma, bronchitis, hiccough, piles. The fruit is pungent, bitter, hot; alexiteric, stomachic, laxative; cures "vata", biliousness, asthma, leprosy, bronchitis, fever, tumours, "tridosha", urinary discharges, excessive salivation, troubles of the heart.
The toasted root is used to stop bleeding from piles and also in bowel complaints.
The powder or infusion of the dried fruits, when introduced into the nostrils, produces a powerful errhine effect and provokes a copious discharge from the Schneiderian mucous membrane.
Fruits, leaves, and tuberous roots of jangli karela are used as a folk remedy for diabetes mellitus in India. The aqueous extract of fruit is reported to possess very good anti-diabetic activity and is having high margin of safety.
The tuberous root is also used in medicine Roots of female plants are larger than those of the male and are preferred for medicinal uses. They are applied in bleeding piles and urinary complaints. The root paste is applied over the body as a sedative in fever.
Other uses:
A semidrying oil is extracted from seed kernels.
References:
1 Singh D., V. Bahdur, D.B. Singh and G. Ghosh (2009). Spine gourd (Momordica dioica): An underutilized vegetable with high nutritional medicinal values, ActaHortic.2009.809.25.